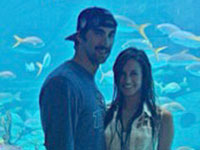 Olympic gold medalist Michael Phelps, who broke up with aspiring model Megan Rossee in December after a 10-month relationship, has whisked off a stunning waitress to the Bahamas for a romantic vacation.
The legendary swimmer's new girlfriend is 22-year-old Sarah Herndon, and according to her pal, she has been "swept off her feet" by Phelps, Radar Online reported.
The 18-time Olympic gold medalist met her while she was on a holiday with her family in Cabo St Lucas, and she extended her trip an extra day to stay with him, while her family went home.
The friend said that Herndon flew back to Los Angeles afterwards, but then Phelps invited her over to the Bahamas last week, where he was doing a celebrity golf tournament.
"He offered to fly her out to stay with him, and of course she jumped at the chance. She got whisked off her feet, I mean he's a celebrity," the friend said.
The friend added that Herndon had a great time with Phelps, they hooked up multiple times, and she said that he is an amazing lover.
By TruthDive.com