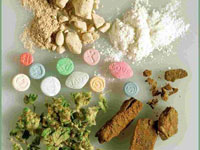 There is no simple fix for the hemisphere's drug problems, said the Organization of American States (OAS) secretary for multidimensional security, Adam Blackwell.
Speaking at the opening ceremony of the Caribbean Outreach Working Group meeting to report on the drug problem in the Americas in Trinidad, Blackwell said drug issues have changed and "likewise, there is no simple fix".
"The problems we are facing with drugs and violence, much of it fuelled by the drugs trade, are far from being resolved; if anything, in some areas, they are worse," he said.
He acknowledged that mistakes have been made in the past and that the approaches that have been used are not working.
Blackwell noted that he disagrees with anyone who thinks there was something that can be done overnight to deal with the drug problems.
"Here I am talking about the overly simplistic solution of let's just legalise the consumption and supply of drugs (and) we are going to eliminate the problem. I don't think so folks. I think we need to have a much more in-depth, much more realistic discussion of the various options, and this is what I hope will happen," he said.
Blackwell urged workshop participants not to limit themselves in anyway but to offer their opinions freely.
Permanent Secretary in the Trinidad and Tobago Ministry of National Security, Jennifer Boucaud-Blake, noted that this region is seen internationally as a major transshipment, consumer and producer of illegal drugs.
She also noted that a recent survey has indicated that there is a high level of substance abuse among school aged children in Trinidad and Tobago. She added that there is also a high level of expressions of marginalization and hopelessness among youths.