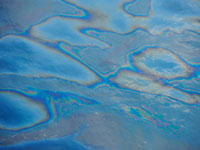 On Sunday, January 20, 2013,  at approximately 5:06 am, the MT "Butterfly" was moored at BORCO's Jetty No. 8 receiving bunker (diesel fuel) from the bunker barge "Smit Inesita", when sometime thereafter oil was discharged into the marine environment. The discharge fell into the water between the tanker and the barge. It was reported that approximately 210 gallons of diesel oil was discharged into the water.
The ship's oil spill plan was activated and the governmental authorities were subsequently notified. Anti-pollution equipment, materials and kits, such as containment booms, absorbing pads, rolls, sawdust, absorbing mats and wilding pumps were deployed in response to the oil being discharged in the marine environment.
Assistance was also rendered by BORCO and STATOIL providing additional containment booms and other anti-pollution equipment, and materials, and kits. Moreover, STATOIL further assisted by providing absorbing pads and were in a stand-by mode to assist further if necessary.
The Port Department is monitoring the response and conducted an aerial inspection of the area. During  the aerial inspection, small pockets of diesel were discovered. The Clean-up operation is on-going and a team from the Port Department and the Department of Environment Health Services will monitor all activities.
The Ministry of Transport and Aviation has launched a complete investigation into this incident to ascertain all the facts.  All ships documentation and procedures will be reviewed to ascertain the volume of oil discharged and to determine the root cause of the incident.  If found to be appropriate in accordance with the Merchant Shipping (Oil Pollution) Act, sanctions will follow.
The Government of The Bahamas remains in a state of readiness in dealing with oil spills. The National Oil Spill Committee is meeting on a monthly basis. Additionally, following the Eugenia incident in December 2012, a consultant from the Regional Marine Pollution Emergency Information and Training Centre for the Wider Caribbean Region (RAC/REMPETIC) met with Government officials and oil spill committee members to review protocols and to proffer advice. The public is advised that the report on the MSC Eugenia incident is being finalised and the findings will be released shortly.
The protection of the marine environment is crucial to the growth and development of The Bahamas. The Ministry of Transport and Aviation advises all marine operations to ensure that due diligence is being exercised in all facets of their operations and to ensure that safety is never compromised. The pollution of the marine environment will absolutely not be tolerated and where violations are found penalties will be imposed.