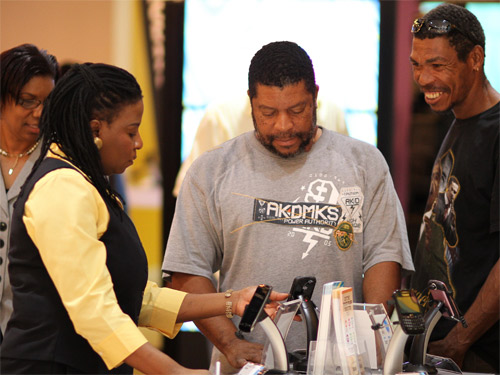 $1.7 M in free texts, free phone calls, and data giveaways signalled a run-away success for the recent Bahamas Telecommunications Company (BTC) 'Gimme 10' pre-paid customer appreciation promotion that ended on January 4th.
Over a 6-week period that included the busy Christmas season, pre-paid mobile customers calling other BTC cell phones for 5 minutes had an additional 10, free; and after sending 10 paid texts in each 24-hour period the next 10 were free! Data users who purchased and activated a 7 or 30-day data plan got an additional 2 or 10 free days respectively.
"We say a big thank you to all our customers for embracing this promotion and making it a success," said Marlon Johnson BTC Snr. VP Brands and Communication. "The estimated give back to customers is $1.7 million in value, and we achieved our objective of giving back and bringing benefit to as many of our customers as possible. The incredible response encourages us to look at further beneficial customer initiatives," said the senior vice president.
Jerome Sawyer BTC senior manager for public relations said that the promotion was a big hit.
"We gave away 18 million texts and 3.3 million voice minutes during the 'Gimme 10' promo over the 6-week promotion. The customer appreciation initiative was a big hit; people really enjoyed the extra value."
Recently, another successful BTC Christmas promotion drew hundreds of people to the BTC store in the South West Plaza for an evening of fun and games at the 'Let's Make A Deal' prize-winning party game night. One of the highlights was selecting the winner of the Golden Knights' signed edition Ford Escape in the finally of the 'BTC Knight Rider Christmas Car Sweepstakes.'
Ten finalists drew for the 1 winning car key and Pelar Sweeting was the lucky winner.