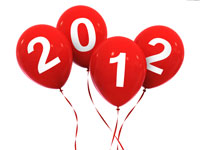 Throughout the year 2012 a number of amazing things have happened in the entertainment world.
There were fashion trends that took us by surprise as classic looks from the '80s and '90s were revamped and neon colored outfits made waves both locally and internationally.
Diet and exercise programs were all the rage with celebrities from Jennifer Hudson to Marie Osmond using their celebrity status to champion the cause of Weight Watchers and Nutrisystem respectively.
Singer Beyonce and her rapper hubby Jay-Z became parents to daughter Ivy Blue Carter in early January and Adele made her vocal comeback in February at the Grammys following a five-month hiatus as a result of throat surgery to remove a benign polyp on her vocal cord.
Miley Cyrus, former Hannah Montana star got engaged to Liam Helmsworth and actress Jessica Biel and singer Justin Timberlake finally tied the knot.
However nothing thrilled moviegoers and song lovers more than the top 10 movies and songs of 2012.
Comic book enthusiasts showed their unwavering support of Marvel's The Avengers movie, which grossed $623,357,910 at the box office.
Teens boogied to the sound of Bruno Mars' single "Locked out of Heaven" and radio airwaves have been bombarded by Rihanna's "Diamonds" single.
Actor Christopher Bale did an awesome job playing Bruce Wayne in the Warner Brothers Studio hit The Dark Knight, which earned $448,139,099 at its box office closing.
Country pop singer Taylor Swift's song "I knew you were Trouble" played in heavy rotation at the request of many of her fans and The Lumineers single Ho Hey got fans stomping their feet and singing ho hey at the top of their lungs.
The star-studded cast of the movie Hunger Games, based on the novel by Suzanne Collins, moved many to tears as boys and girls between the ages of 12 and 18 were forced to participate in Hunger Games, a televised event which occurred annually requiring them to fight to the death until a lone victor emerged.
Korean rapper PSY's single Gangnam Style could be heard on the lips of many worldwide and the song's video became the first video in internet history to be viewed more than one billion times on You Tube.
Daniel Craig received rave reviews for his role as the debonair James Bond in the movie Skyfall, which grossed an estimated $283,700,000 at the box office and Twilight movie lovers had their minds blown at the theatre as they said goodbye to Edward, Belle and Jacob.
The Twilight Saga: Breaking Dawn Part 2 grossed $283,023,753 since opening November 16.
Sony Studio's "The Amazing Spider-Man" webbed its way to $262,030,663 at its box office close on October 14.
The single "Scream & Shout" by will.i.am featuring Britney Spears had club hoppers rocking to its futuristic beats and will.i.am's classic auto tuned vocals.
Children everywhere enjoyed their movie experience when they went to see "Brave" and "Madagascar 3: Europe's Most Wanted."
Brave's Princess Merida brought chaos to her kingdom by defying traditional custom in choosing a mate with just one wish.
The princess relying on her archery skills and bravery must undo a curse brought on as a result of her wish in order to restore her kingdom.
Madagascar's animal characters Alex, Marty, Gloria and Melman continued to fight to get home to their beloved Big Apple (New York).
Traveling through Europe the gang found a perfect cover, a traveling circus whose style is twisted Madagascar style.
Closing out the top 10 movies of 2012 are Ted and Dr. Seuss' the Lorax both movies grossed between $219,000,000 and $215,000,000 at the box office.
Thrift shop by Macklemore and Ryan Lewis featuring Wanz, Beauty & A Beat by Justin Timberlake featuring Nicki Minaj, Skyfall by Adele and He Ain't Heavy, He's My Brother by The Justice Collective all played their part at shaping the music scene of 2012. So there you have it a look at the movies and songs that were hot during the year 2012.
By Sharell Lockhart
The Freeport News