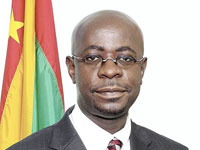 The Grenada Electricity Services (GRENLEC), which has been privately owned for 18 years, is not reverting to state control.
Florida-based WRB Enterprises bought majority holdings from government in 1994.
But WRB, which effectively owned 61.4 percent of GRENLEC, recently offered the Grenada government the option of retaking control of the company by purchasing its shares for some EC$90 million.
"We cannot buy them (the shares). We do not have the money to buy them," Finance Minister Nazim Burke said at a news conference on Monday in St George's.
Burke said, however, that Light & Power Holdings (LPH) of Barbados – which is majority-owned by Canada-based Emera Inc. – has "reached an understanding" with WRB and is close to completing a purchase agreement for the 61.4 percent shares in GRENLEC, the sole provider and distributor of electricity in Grenada.
Of the 61.4 percent shares, 50 percent was owned by Grenada Private Power, a subsidiary of WRB.
Another WRB-owned company, Eastern Caribbean Holdings (ECH), controlled 11.4 percent.
In anticipation of the LPH takeover of GRENLEC, government has been in negotiations with the Barbadian company and talks are "well advanced," said Attorney General Rohan Phillip, who joined Burke at the news conference.
Phillip and Burke, who have been involved in the negotiations with LPH, said there will be amendment to the Electricity Supply Act to govern an agreement between the Grenada administration and the Barbadian company.
"Some laws are to be passed," said Burke, adding that government is establishing a "regulatory framework to serve the best long-term interests of the country."
At Monday's press briefing, government circulated a 20-point document captioned "The New Framework for Grenada's Electricity Sector".
Point one states that "an exclusive licence will be granted to GRENLEC to generate electricity from fossil fuels only."
Burke described this as one of the positive outcomes of the negotiations with LPH.
He said government had broken GRENLEC's monopoly on electricity supply, and now was separating the generation of renewable energy from non-renewable sources.
In addition, said the finance minister, government has the right to purchase within 12 months, 11.4 percent of LPH's 61.4 percent GRENLEC shares. The purchase price will be EC$7.50.
Burke also announced that government had activated a dormant public utilities commission to act as electricity rate regulators.
Even though government couldn't buy the WRB/ECH shares, said Burke, it used it as a "historic opportunity" to promote renewable energy, including a proposed project for the introduction of electric vehicles; and to put policies in place that are fair to all Grenadians.
"We are very pleased with the outcome of these negotiations," said Burke.
"The government has moved swiftly and decisively to protect and enhance the interests of its citizens in a sector that is vital to national security. Access to affordable, reliable and clean energy is critical for the sustainable economic development of Grenada."
The minority partners in an LPH/Emera-controlled GRENLEC will include the Grenada government with 10 percent shares, and the National Insurance Scheme with 11.6 percent.
Members of the public – Grenadians and other Caribbean nationals – hold 17 percent.
By Lincoln Depradine
Caribbean News Now