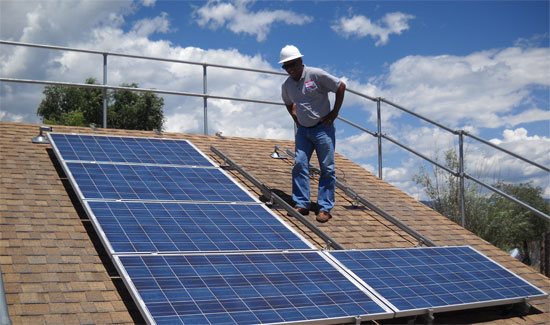 With the mounting costs of electricity bills and the alternative of conserving energy, The Bahamas Technical and Vocational Institute (BTVI) has officially recommenced its solar energy program.
The renewable energy program was recently reintroduced after an initial offering in 2009 to train a cadre of persons to become skilled solar energy technicians.
BTVI's Dean of Construction Trades, Alexander Darville, noted that it is a comprehensive 27-week program with 270 contact hours.  He emphasized that now is the time to take advantage of an industry that is emerging in The Bahamas today, but will advance in the near future.
"Solar will take off. There will be a demand for these trained individuals. Those joining the program will have a jumpstart on the industry.  They will be trained to maintain these solar systems.  For example, The Bahamas Agricultural and Industrial Institute (BAIC) is about to install a 35 kilowatt system. That's a job for someone to maintain beyond their staff.  That's only one example," he stated.
He added that with residential solar systems as far as the Abacos and the Exumas, more people will see the need to have local contacts for maintaining those systems. "Instead of them flying someone in on a work permit, BTVI will have a pool of solar energy technicians to do it. We understand the importance of conserving energy and cutting costs," he stated.
Solar is expected to help businesses and homeowners to meet part of their energy needs at a lower cost as it can be converted into electricity via solar thermal energy and photovoltaic (PV) panels.
"With Value Added Tax (VAT) coming on board, it will affect how much energy you consume and solar is an alternative means for energy," noted Mr. Darville who is also one of the program instructors.
Furthermore, BTVI has purchased three pieces of solar equipment and instructors have already been trained by Mechanical Engineer from Hampden Engineering Corporation in Massachusetts, Bryan Methe.   BTVI's instructors were initially trained at Solar Energy International in Colorado.
The equipment arrived at the BTVI campus unwired, and purposely so that students could learn and practice the wiring, operation and layout.  They will become knowledgeable on where to place solar panels, the amount of sunlight needed to power them and differentiate between using them as stand-alone energy sources and tying them to an electrical grid.
Meanwhile, one of the key components of BTVI's program is the roofing.  "Students will be exposed and get an understanding of how to install the system into the roof," said Mr. Darville.
And for those who still have an element of skepticism about solar energy, Mr. Darville said besides being more environmentally friendly, it is worth the investment as going green is cheaper in the long run.
"With the cost of fuel, what the fuel is doing to the environment and the availability of sun, solar is the way to go," he stated.
The Bahamas Technical and Vocational Institute (BTVI)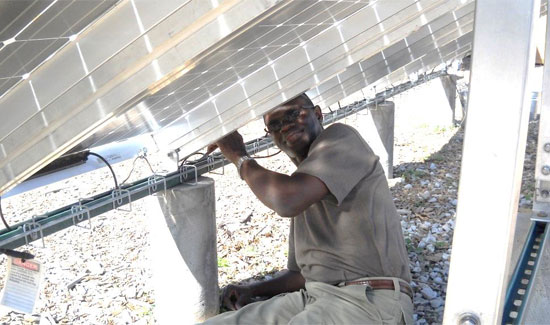 SOLAR ENERGY – BTVI has recommenced its solar energy program which will be held over a 27-week period with 270 contact hours.  Shown here is one of the instructors, Dean of Construction Trades, Alexander Darville.
EMERGING INDUSTRY – BTVI's solar energy program is underway in an effort to train a cadre of persons in the field.   Shown here is Technical Supervisor Manager and instructor, Wellington Bain.