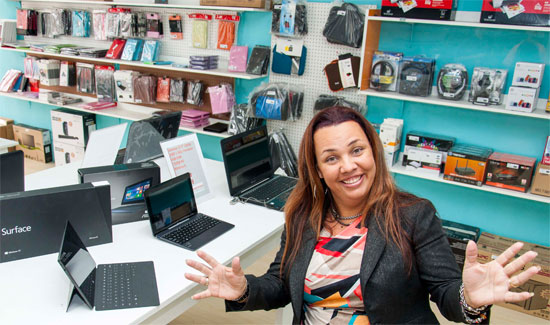 Most people don't wait until they are stranded by the roadside to consider taking their car in for a tune-up.
Yet when it comes to Information Technology – the engine of any modern business – it seems common sense is far less common, according to a leading provider of hardware, software and IT services.
Though much neglected, maintenance is a vitally important aspect of any healthy IT system says Sabrina Knowles, Managing Director of Armstrong Technology Consultants.
Most businesses hesitate, she said, because of the long-established belief that investing in technology has to be expensive. Launched in 2007, Armstrong set out to overturn this perception, and over the past seven years has earned a reputation for offering top products and services at surprisingly affordable prices.
Using a creative yet structured model to craft IT solutions tailored to each client, the company offers everything from regular infrastructural support to advanced telephony systems and security and systems management.
"We consult with a business to find out what they are trying to accomplish and apply a formula designed to find the best option at the best possible price," said Mrs. Knowles. "At the same time, every business is unique, so our approach must be formulated, but flexible."
One of the most common concerns is Disaster Recovery (DR), said Mrs. Knowles.
"One of the DR services we provide is known as a Cloud Solution. It takes the data offsite, to another location, so even if the building burns to the ground, information is secure and protected."
The company has recently branched out, adding a retail location at 48 Madeira Street. Just over a year on, business is booming – far exceeding expectations and driving the hiring of additional staff.
"By combining cutting-edge gadgets and hardware with our expertise in Information Technology, we are creating a business that truly is a benefit to our customers," said Mrs. Knowles. "We cater to everyone from consumers looking for the latest tablet or television to businesses in need of networking and corporate support packages."
The 2,300 sq. ft. retail area is a hands-on space where customers can experience how various cutting-edge devices and services will make it easier for them to work and play.
"We're looking forward to continually bringing the latest technologies to consumers in a unique environment where they can explore how products and services fit together across business, entertainment, travel, music and more," Mrs. Knowles said. And while the retail business is thriving, the toughest challenge remains educating businesses about the importance of ongoing maintenance for IT equipment."
"What we find is the same business that maintains a fleet of trucks or its executive's cars with great care waits until a critical computer, server or other equipment fails to perform as expected and then they call for urgent service," said Mrs. Knowles. "Routine maintenance for IT equipment results in smoother operations and far fewer interruptions."
Diane Phillips and Associates
Captions: Knowles Knows – Armstrong Technology's Sabrina Knowles says sales of affordable technology aids are booming at the Palmdale retail store, but concern remains among professionals that people take maintenance of their vehicles more seriously than they do the equipment that drives their business. (Photo by Derek Smith, Jr., DPA)