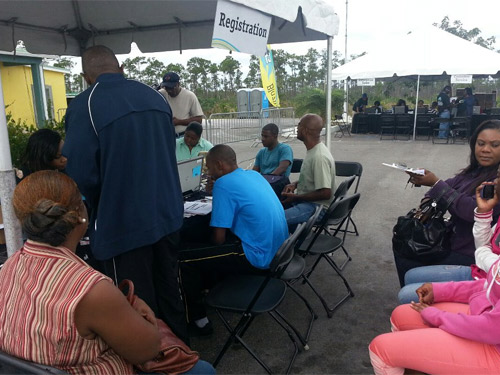 NASSAU, NP- Residents of Coral Harbour where certainly at home when BTC came calling over the weekend with big savings on Internet and VIBE phone services as part of BTC's Neighbourhood Connect Programme.
A crowd soon built around the BTC temporary set-up in the Coral Harbour Plaza and new resident Sue Daniels was one of them; she said that the community outreach was perfect timing for her.
"I've not long moved here and I have a 'phone but no Internet so I'm pleased to see them here today. It's wonderful that they've come to us and I now understand the choices and levels of service I can subscribe to. They've saved me a trip and money as they gave me 2, free months on the BTC Internet service."
Jerome Sawyer, senior BTC PR manager explained the weekend initiative.
"People signing up as first time users of BTC's Internet services or those who wanted to switch easily from another company, received up to 2 months free service, and customers who signed up for landline services received a $50 credit towards their bill," said Mr. Sawyer. "Neighbourhood Connect is our travelling customer care unit that visits different neighbourhoods and communities to explain one-on-one, BTC products and services.
People appreciate the personal service in their own 'backyard' so to speak and the special incentives we bring; they are always very responsive to us and the staff enjoys the change of pace and meeting people outside of the office."
Submitted By Serena Williams
Caption: Neighbourhood Connect. BTC calling! Coral Harbour residents enjoyed the personal service by the BTC customer care unit when they set up 'shop' in their neighbourhood recently.  Learning about new phones, services and subscriber options plus generous sign-up incentives on BTC Internet and VIBE ensured a busy and interesting day.