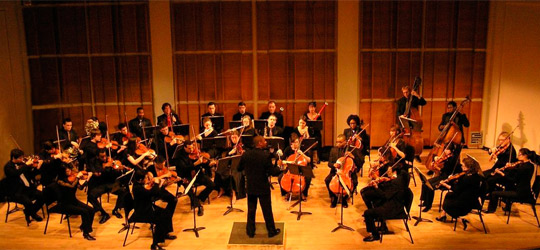 Ensemble Du Monde are the words that should be on everyone's lips just now as they are the flavour of the month!  An international classical orchestra in Nassau! It does not happen very often but it will next week, from Wednesday, February 20th to Sunday, February 24th, 2013.
The orchestra will perform at various locations over the island and, to make it even more exciting, the Nassau Music Society who is hosting the orchestra, has organised an additional concert to start off this "Festival of Afro/Caribbean Composers". The additional and very special concert features our very own Bahamians Cleophas Adderley, The Bahamas National Youth Choir, JoAnn Callender and C-Force, all well-known artists of great distinction in the Bahamian music world and abroad.
We suggest you visit one of the Box Offices quickly –  Logos in the Harbour Bay Shopping Centre, Custom Computer, Cable Beach, Chapter One Book Store, Oakes Field, opposite the College of the Bahamas, Moir & Co. in the Lyford Cay Shopping Centre or book online at www.nassaumusicsociety.org and get a ticket before they all disappear into other people's pockets!
Here are the details on this exciting series of events:
WEDNESDAY 20th February, 7:30pm at COB Performing Arts Centre – The Bahamas National Youth Choir, JoAnn Callender and College of the Bahamas Faculty Ensemble, C-Force combine together to set the scene for the Festival with a rousing programme of Bahamian and Caribbean music which are detailed on the Society' s website. Tickets are $25 for members of the Nassau Music Society, $35 for non-members and $10 for students.
THURSDAY 21st February, from 1:00 am-4:00 pm at the COB Library auditorium there is a symposium for those interested in learning about Caribbean composers. The symposium organised by the Nassau Music Society and the College of The Bahamas as a part of this festival is entitled "Composers of Afro-Caribbean Descent" and will engage international and Bahamian musicians, composers, and in presentations, performances, and conversations around composers and performers of African and Afro-Caribbean descent. It will be organized around the theme "Caribbean Art Music: An Unexplored Tradition".
Musical genres associated with the Caribbean typically include popular and traditional styles. Although many composers of art music have emerged from Caribbean nations and from the Caribbean Diaspora, information on this subject is scarce. As composers are slowly gaining recognition, a new understanding of and visibility for Caribbean art music is emerging.
The mission of this symposium is to explore this topic of regional and international interest, drawing perspectives from a wide range of disciplines. Local musical luminaries such as Cleophas Adderley, Audrey Dean-Wright, Quincy Parker and Christian Justilien will be discussing their music and how they compose. They will be joined by personalities from across the Caribbean including Fred Onovwerosvoke, Leo Koby Vero (French Guyana), Adam Walters (Trinidad), Carlos Carillo-Cotto (Puerto Rico), Peter Ashbourne (UWI, Mona) to name a few. Marlon Daniel, the Musical Director and Conductor of Ensemble Du Monde along with Dominique Le Gendre, Trinidadian composer and many others will continue the discussion with moderators Edward Bethell and Nicolette Bethel from COB. We encourage you to be a part of this FREE event and learn about Caribbean Composers. Details: http://nassaumusicsociety.org
The morning of FRIDAY, February 21st is reserved for students and budding musicians who will have the opportunity to listen to the full orchestra, first rehearsing, then playing a short, free concert for them. They will then be able to talk to the musicians. All 400 students invited from Government and private schools will receive a free lunch and a free souvenir "Chevalier de Saint George" T-Shirt designed by T-Rex.
The event is entitled "Before there was Mozart" and local Bahamian radio personality Christina "Chrissy Love" Thompson will narrate the video illustrated concert. Why the title "Before there was Mozart"? Quite simply because there was a young boy from Guadeloupe, Joseph Boulogne, later known as the Chevalier de Saint George who, eventually known as the Black Mozart, made his mark in France as a violinist and composer, a fencer and member of the French Assembly. His style has often been compared to that of Mozart. This is quite an achievement for a young man from the colonies and particularly at that time in history. He is in fact the centre piece of this Festival and his music will be featured in the Educational concert.
On FRIDAY evening at 8:00 pm the full orchestra will perform the music of Chevalier de Saint George and compositions by Mozart and Hayden in a concert at Atlantis Theatre, Paradise Island entitled "Diversity at the time of Mozart". Tickets for this event may only be purchased from the Atlantis box office, box.office@atlantisparadise.com  and are priced at $35 for Nassau Music Society members and $45 for non-members (premium seating) or $35 for regular seating at the rear of the theatre. This is a concert not to be missed!
SATURDAY, at 7:30pm at the College of the Bahamas Performing Arts Centre, the Nassau Music Society and Ensemble Du Monde contribute to the 40th Anniversary of the Independence of The Bahamas with a full orchestra concert entitled "Composers of the Caribbean".  The evening will start with a brief, pre-concert lecture by composer Dominique Le Gendre entitled "Exploring Composers of Caribbean & African Ancestry" During the course of the evening, two world premieres by Dominique and a world premiere by Cleophas Adderley will be played. There will also be a symphony by Chevalier de Saint George.
It is wonderful that we are able to recognise these two living composers from the Caribbean!
This is a VIP event, with VIP tickets priced at $75 for Members and $100 for non-Members and bitincludes choice seating for the concert, an after-concert champagne reception with an opportunity to personally mix and mingle with the orchestra. General seating ticket prices are $35 for members, $45 for non-Members and $20 for students and includes refreshments after the concert.
To conclude, on SUNDAY at 5.30pm at St. Paul s Church Hall Lyford Cay, a quartet, Quatuor Mahogany and the Chamber Group from the Orchestra will perform for the Bahamian public.  Also included in the programme are an octet and a piano quintet with Marlon Daniel at the piano. This will be followed by a short reception prepared by Blue Caviar and tickets are $45 for members, $65 for non-Members and $20 for students.
If you purchase tickets for all three evenings, February 20th, 23red and 24th, (this does not include the Atlantis concert) you will receive a 10% discount.
Proceeds from these concerts benefit the Nassau Music Society's scholarship fund for Bahamians.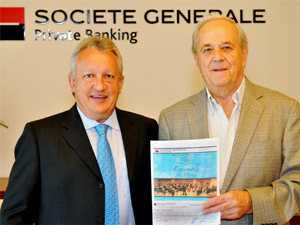 The Nassau Music Society would like to thank our Patron, His Excellency Sir Arthur Foulkes, Governor General, for his support as well as its generous sponsors headed by Société Générale Private Banking and, for this event, Atlantis Paradise Island and the American Embassy!
For more details on these events: www.nassaumusicsociety.org.