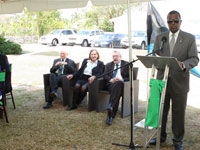 Fred Mitchell, Minister of Foreign Affairs and Immigration, says the establishment of the Republic of Ireland Consulate will further deepen diplomatic relations between both countries, which were established in 2007.
His remarks came at the Investiture of the Honorary Consul of Ireland at the Irish Consulate overlooking Lake Waterloo on East Bay Street on Monday, February 11, 2013.
"Now that Ireland has established a constant physical presence in Nassau, I trust that this step in our relationship will be a well-placed and solid one," Mr. Mitchell said.'
He recalled during the Presentation of Letters of Credence in February 2011 by John Bassett accrediting him (Non-Resident) Ambassador to The Bahamas, the proposal of an Honorary Consul to further deepen relations between both countries. Brian Quinn is Honorary Consul.
Before the establishment of diplomatic ties, the Irish have helped The Bahamas in national development; in 1970, Air Lingus offered training programmes for engineers at Bahamasair.
"Such capacity-building and people-to-people exchanges have served The Bahamas well, and we hope that we can arrange more exchanges to share experiences and best practices for our mutual benefit," he said.
Mr. Mitchell also acknowledged that Ireland has long been a friend of the Caribbean. In 2008, Ireland gave $2.5 million on top of its contribution to the Caribbean Catastrophe Risk Insurance Facility, of which The Bahamas and other CARICOM States were deeply appreciative.
With regards to trade, Ireland's advocacy and support of the CARIFORUM Economic Partnership Agreement has been invaluable to The Bahamas," he said.
"We are also thankful for Ireland's support as we continue on the path toward accession to the World Trade Organisation.  We understand that trade continues to be the link for all nations, and in promoting and bolstering trade, not only between our nations, but also with the world," Mr. Mitchell said.
As to its commitment to renewable energy, Ireland has sought to do its part to reduce its carbon footprint and promote a greener economy.
As The Bahamas looks to diversify its energy sources and energy generation methods, Mr. Mitchell said that the wind farms of Ireland serve as inspiration that with the right incentives and Government support, sustained methods of renewable energy generation are possible.
"Ireland's location near major fisheries stocks has thrust it into a role of protection and conservation of its fisheries for future generations, and there is much we can learn from each other in this regard.
"While we do not share the same fisheries populations, we share the oceans.  The wellbeing of the global marine environment as a whole is essential to islands such as ours, as our cultures owe much of their distinctive nature to the influence of the sea and its bounty," he said.
Mr. Mitchell said he was happy that with the appointment of Mr. Quinn as Honorary Consul of the Republic of Ireland to The Bahamas, his experience in the private sector augurs well for the Irish-Bahamian relationship as both countries seek ways in which to help each other regain economic footing.
Amongst members of the Diplomatic Corp present for the Investiture represented the United States, Cuba, China, and Great Britain.

By Lindsay Thompson
Bahamas Information Services