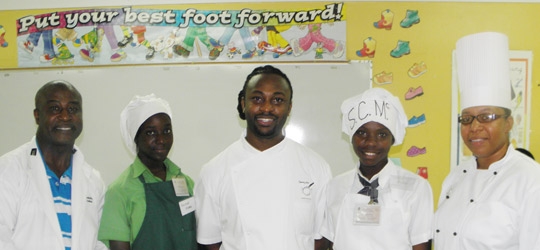 Kenisha Stubbs of St. John's High School won the 2013 New Providence Junior Champion Young Chef Contest sponsored by Mahatma Rice and Robin Hood Flour.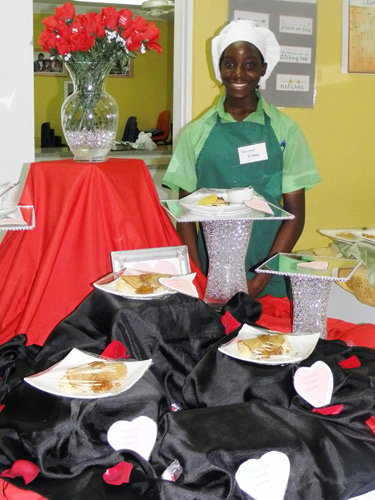 Kenisha who is 15 years old and a ninth grade student at St. John's College, earned a total of 493 points with her "Mahi Mahi Rice Burger " (247 points) and "Nuts of Joy Pumpkin Surprise" (246 points), judged "Best Mahatma Rice" and "Best Robin Hood Flour" respectively.
Judging the junior Young Chef Champion in New Providence was Chef Ron Johnson of Savory Art; Executive Chef Seanette Cooper, Sandals; and Chef Sterling Thompson of the Culinary Hospitality Management Institute (CHMI).
Chef Ron remarked "I'm assured of the notion that The Bahamas has some of the most profound flavors any discerning palate can appreciate; the Junior Chef competition cements this fact annually. All competitors gave me an internal smile as they displayed their creativity, fearlessness and pride in executing their signature rice and flour dishes.
All of them are worthy of acknowledgement and if I were to time travel to my youthful state, they would surely embarrass me with their dynamic skill sets.
Kenisha Stubbs was nifty, organized and poignant in delivering award winning dishes, sweeping both categories respectively. It takes a creative spirit to reinvent or give a new twist to pedestrian cuisine and food. For example, I was amazed by how the St. John's student created burger buns using cooked rice. Additionally, her range and techniques were also noteworthy. She used a cookie as a faux cannoli in her dessert; it was wonderful with harmonious flavors and tastes. I'm unashamed to declare that the student competitors are some of my sources of inspiration for when I begin work on the new set of dishes for my website upgrade as I am focusing more on Caribbean flair this year".
Tara Hepburn, of S.C. McPherson placed second with 489 points with her entries "Bahamian Style Pina Colada Rice Rice" and "Spicy Pumpkin Fritters".
Daronique Munroe of C.H. Reeves JHS came third with 474 points for "All Island Rice Cook Up " and "Beet Coconut Surprise".
The contest, held at A.F. Adderley JHS, is a preliminary to the 21st Annual All Island Champion Young Chef finals, scheduled to be held March 13th at A.F. Adderley  for juniors and March 14th at C.C, Sweeting SHS for senior high school students, with over $3,300 in total scholarships available.
"The top two New Providence juniors move on to the National Junior Champion Young Chef competition", reports Mrs. Sharon Ferguson, Ministry of Education Home Economics Officer, who coordinates the event with P.S. Advertising and Public Relations throughout the nation's schools.
For the eleventh year, there will be cash prizes for junior high national Young Chef competitors: $250 for first, $150 for second, $100 for third and $50 for fourth.
"National Senior Champion Young Chefs will receive $1,500, $750, $300, and $200 respectively", revealed Keith Parker of P.S. Advertising and PR, who has been coordinator of the event since its inception.  Sponsors Mahatma Rice and Robin Hood Flour, are distributed in the Bahamas by Asa H. Pritchard Ltd.
P.S. News/Features
Top photo caption: 2013 Jr. New Providence top two finalists!
Kenisha Stubbs of St. John's College and Tara Hepburn of S.C. McPherson JHS placed 1st and 2nd overall at the 2013 Jr. New Providence preliminary.  They both advance to the All-Island Finals scheduled for March 13th-14th . From (L-R) Chef Sterling Thompson, Culinary Hospitality Management Institute (CHMI); Kenisha Stubbs (1st Place), Chef Ron Johnson, Savory Art; Tara Hepburn (2nd Place) and Executive Chef Seanette Cooper, Sandals Resort. Photo by Keith Parker, P.S. News/Features