Mass Rescue Operation Set For Grand Bahama
February 8, 2013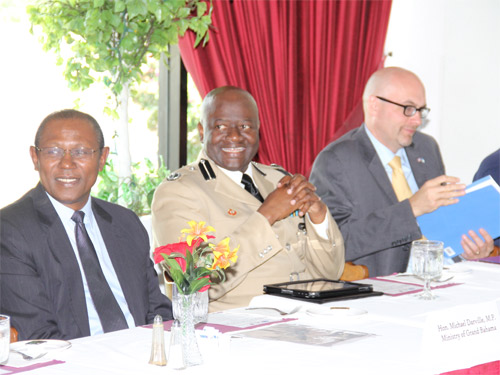 FREEPORT – Members of the National Emergency Management Agency and top officials from the United States Coast Guard and the U.S. Embassy held what was described as a meet, greet, mix and mingle luncheon with disaster stakeholders on Grand Bahama Tuesday.
The luncheon was held at the Ruby Swiss Restaurant and dubbed a "Black Swan" lunch reception.  Black Swan is the code name given to the rescue operation which will be conducted on Grand Bahama April 1-5, 2013.
Also attending the luncheon was Senator Julian Russell who brought greetings on behalf of the Prime Minister and the entire parliamentary team for Grand Bahama.
He told the gathering that "the Government of The Bahamas is indeed pleased that an operation of this magnitude will take place on Grand Bahama, which is considered the industrial and maritime hub of The Bahamas.
"The Bahamas, especially, Grand Bahama is no stranger to the devastating effects of natural disasters. Subsequently, the Government of The Bahamas recognises the necessity for its agencies to liaise and work collaboratively with personnel from neighbouring countries to implement and enforce procedures that will increase awareness and ensure preparedness in the event of a catastrophic occurrence that requires mass rescue operations at sea or ashore," he told the gathering.
Further, Senator Russell noted that it was his understanding that the luncheon allowed all the key players in the exercise to meet, establish communications and to be advised about the milestones in the planning process.
He went on to express his gratitude to "the organisers of this exercise, for bringing together this team of highly qualified individuals from The Bahamas and the United States, whom I am certain, will facilitate this mass rescue operation, response and recovery exercise, with little to no error."
By SIMON LEWIS
Bahamas Information Services
HAPPY MOOD – Senator Julian Russell is pictured left along with Assistant Commissioner of Police Emrick Seymour, and Mr. John Armstrong, Acting Deputy Chief of Mission, U.S. Embassy, Nassau, during a Black Swan luncheon on Tuesday afternoon at the Ruby Swiss Restaurant. (BIS Photo/ Vandyke Hepburn)