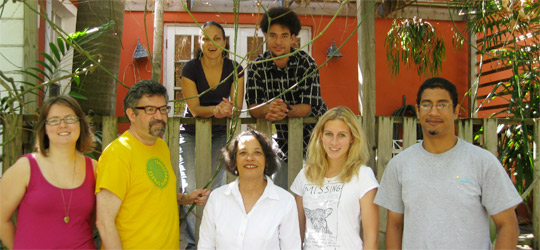 The tour will begin earlier at 9:30 am and have a new point of departure. Whereas in years past, patrons gathered at the National Art Gallery of The Bahamas, they will now depart from Dockendale House on West Bay Street in buses provided by Bahamas Experience Tours (the event's official transportation Sponsor), allowing for the NAGB to become a formal stop on the tour with their exhibition "Single Sex". Offering a range of interpretations on portraits of females exclusively by female artists, the NAGB display will provide a refreshing spin on traditional portraiture.
Meanwhile, at the D'Aguilar Art Foundation, the exhibition "Disrobed" will delve into the unclothed human form as interpreted by a selection of Bahamian and international artists, addressing the inspirational and controversial roles of nudity in the art world throughout history.
At the Antonius Roberts Studio and Gallery at Hillside House, the exhibition "Ripple" will also bring many artists together, but for a fundraising cause. Work by more than 50 artists will go towards arts programming such as local residencies for Bahamian artists.
The beautiful outdoor area of Stingrae Studios will hold an exhibition of realistic artwork under a variety of pleasant everyday themes by the artists Malcolm Rae, Erlin Carey, Toby Lunn, Quentin Minnis, Craig Roberts and Ana Wassitsch.
In a group show at the College of The Bahamas' Harry C. Moore Library and Information Center, students will offer innovative and experimental takes on the theme "Kinetic", bridging the gap between painting, sculpture and ceramics.
"Two Points of View" at Popopstudios International Center for the Visual Arts will place the works of Kendal Hanna and Eleanor Whitely side-by-side. Though the exhibition will explore the similarities and differences in technique and perspective in the work, it is also a testament to the long friendship shared by the pair as they met each week to paint and draw a live models. Ceramic work by Imogene Walkine will also be on display on the porch.
Meanwhile at the Liquid Courage Art Gallery, a new gallery on the Tour, two artists—Dennis De Caires, born in Guyana, and Bahamian Maxwell Taylor—will showcase their woodcuts and paintings in "Stories", drawing upon Caribbean folklore and history.
Finally, the Doongalik Studios Art Gallery will present "Su An Ty—A Symphony of Sound and Sight", showcasing indoor and outdoor displays of metal bells by Tyrone Ferguson, ceramic bells by Sue Bennett Williams and dazzling Junkanoo-inspired pieces by Andret John.
Be sure to secure your spot on this year's tour by reserving your $30 ticket today at the Doongalik Studios Art Gallery, #20 Village Road (394-1886), or at the National Art Gallery of The Bahamas on West Hill Street (328-5800).
For more about Transforming Spaces, find them on Facebook and online at www.transformingspacesbahamas.com
Photo caption: Transforming Spaces 2013 Committee members Back Row (l-r) Katrina Cartwright, Alistair Stevenson; Front row: Sonia Farmer, Jay Koment, Pam Burnside, Tessa Whitehead, Jaime Lewis. Not shown: Amanda Coulson, John Cox, Malcolm Rae, Antonius Roberts