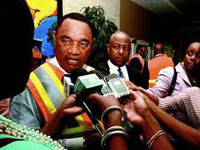 Prime Minister Perry Christie voiced concerns that officials at the mega-resort Baha Mar have not yet identified a partner for its planned casino.
Christie told reporters this was one concern he had about the Cable Beach development. His comments came ahead of a scheduled meeting with Baha Mar Chairman and CEO Sarkis Izmirlian.
Although the prime minister did not divulge the specifics of what would be discussed in that meeting, he did mention his worries about the yet announced casino partner.
Last year, the resort's Senior Vice-President of Administration and External Affairs Robert Sands said the casino partner would be revealed by the end of the summer. However, this announcement never came.
"It really wouldn't be fair for me to discuss the meeting with Mr. Izmirlian prior to my having it and I won't do that," Christie told reporters after he spoke at a Bar Association luncheon at the Sheraton Resort.
"But I have been arguing that it's a necessity for the Government of The Bahamas and Baha Mar to be on the same page, operating at the same level because the country has such an enormous investment in this particular enterprise as he (Izmirlian) does.
"As you know, we're going to have to spend an enormous amount of money marketing.
"We've already committed ourselves to spending money in paying for the road works (at Cable Beach), paying our share of the road works that have been done, and so it's something where we have to be so satisfied that we are firing on all fronts because the former prime minister indicated that as much as $400 million in contracts ought to be available for Bahamians.
"We have to see therefore a much more sustained and greater involvement on the part of Bahamians in the project."
Christie was also expected to speak to Izmirlian about the company's move to lay off 140 Wyndham workers last week.
The Bahamas Hotel Catering and Allied Workers Union (BHCAWU) claimed it was blindsided by the layoffs and only informed shortly before employees were let go.
Christie echoed comments made earlier by Minister of Labour and National Insurance Shane Gibson who said the government should consider updating its labor laws to protect workers from these events.
Yesterday, Christie met with representatives from the National Congress of Trade Unions, including officials from the hotel union.
By Taneka Thompson
Guardian Senior Reporter