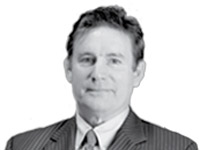 Simon Potter, CEO of Bahamas Petroleum Company issued the following statement from the company's offices in New Providence subsequent to an announcement by Kenred Dorsett, Minister of Environment and Housing, regarding the future conduct and consideration of offshore oil exploration in The Bahamas:
"We very much welcome today's statement from the Honourable Minister for the Environment, and are pleased to be in a position to help gather and report back additional data characterizing the offshore resource potential for our licence areas bounding the Cuban border.
"As the Minister noted, exploration activities have already commenced in the region and in fact are well underway just on the other side of the country's maritime boundary with Cuba. Today's announcement clears the way for a thorough assessment to be conducted on the potential for oil on the Bahamian side of the border.
"Needless to say, a successful discovery offshore has the potential to generate significant value for the country and enormous long-term benefits for the Bahamian people. But while the public weighs those potential opportunities, it also has a right to know that proper care will be taken, sensible investments will be made, and the best and most suitable technology will be brought to bear to ensure that any activities conducted offshore are executed safely, and in a manner that both preserves and protects the environment for generations to come. Many other nations in the region have successfully balanced both the challenges and opportunities inherent in such activities, as can The Bahamas.
"Over the next several months, our plan is to demonstrate in a straightforward and transparent way how exploration plans will be implemented and strengthened. We anticipate it will take at least a year to appropriately plan any drilling activities.
"With today's announcement, we have been granted the opportunity to do precisely that. And for that opportunity, we are genuinely excited."
Serena Williams… Media & Public Relations