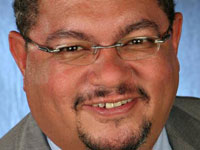 Arthur Porter has been ousted from a major Caribbean medical project over concerns about his health and the fraud allegations he faces in Canada.
The former spy watchdog's woes precipitated his departure this week from a multimillion-dollar cancer centre being built in Antigua and Barbuda.
"In light of … Arthur Porter's recently diagnosed advanced lung cancer and media reports related to concerns in Canada, Dr. Porter has graciously suggested the transfer of the chairmanship," said a government release.
Porter had been chair of the Cancer Centre Eastern Caribbean project being built in the Antigua and Barbuda capital of St. John's. One of his associates will now take over the project.
He is also stepping down as the centre's managing director and head of radiation oncology, the release adds, "while a permanent replacement is sought pending the outcome and hopefully favourable resolution of Dr. Porter's health and other concerns."
Porter, who now lives in the Bahamas, is caught up in allegations swirling around a billion-dollar mega-hospital development in Montreal. The Canadian government is trying to extradite Porter — a medical doctor self-diagnosed with cancer — from the Bahamas.
Porter has also come under fire for his political donations. Public records show he gave the federal Conservatives $2,200 while at SIRC against Privy Council Office guidelines. He is the only former SIRC chair to give money to a political party in recent years. Other former SIRC members say they were pointedly told not to donate.
By Steve Rennie
The Canadian Press