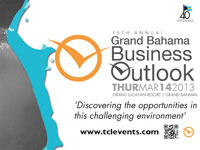 The annual Grand Bahama Business Outlook (GBBO) is slated for Thursday, March 14, at the Grand Lucayan Resort under the theme 'Discovering the Opportunities in This Challenging Environment.'
Joan Albury, president of the TCL Group, commended on this year's group of speakers and found it fitting they would address the people of Grand Bahama.
"Our choice of topic and speakers has been quite deliberate. For this Business Outlook series, we make these selections to articulate with the economic and business climate the host island and the country as a whole are experiencing," she said.
The group of speakers: Minister of Tourism, Obie Wilchcombe, Minister for Grand Bahama, Dr. Michael Darville,; President and CEO of the Grand Bahama Power Company, Sarah MacDonald and several others.
The chief organizer of the five island Business Outlooks series also noted that Grand Bahama has been going through some very challenging times in many sectors, which makes it even more important to reflect the total package in all capacities.
For registration and further information regarding the GBBO persons are asked to contact Mercynth Ferguson at the Grand Bahama Chamber of Commerce, Hazel McKinney at Deloitte, Eileen Fielder at The Counsellors or visit the website at www.tclevents.com.
By Ashley Penn
Freeport News Reporter