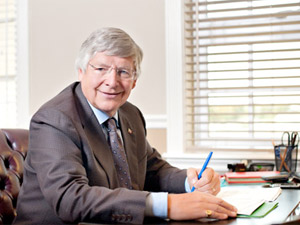 Freeport, Bahamas – Ian Fair, Chairman of The Grand Bahama Port Authority, Limited (GBPA) will bring remarks at this week's Grand Bahama Business Outlook slated to be held Thursday March 14, at the Convention Centre of the Grand Lucayan Resort.
Speaking under the theme, "The Future: Grand Bahama Island – A Wealth of Opportunity!" Fair intends to dispel the talk of doom and gloom that has pervaded Freeport's economic outlook in recent times.  "Despite the hardships, we have seen a series of numerous successes that when added together paint a picture of a steadily progressive economy that is surviving despite a challenging environment," he commented.
Now in its 15th year in Grand Bahama, the reputable forum boasts a cadre of speakers, each of whom are highly respected within their individual sectors.  The conference's overall theme aims to point the way forward for future success as speakers propound their views  on 'Discovering the opportunities in this challenging environment.'
Along with Fair, other presenters include, the Hon. Obie Wilchcombe, Minister of Tourism; Hon. Dr. Michael Darville, Minister for Grand Bahama; Barry Malcolm, President, Grand Bahama Chamber of Commerce; Gowon Bowe, Partner, PricewaterhouseCoopers; Merrit Storr, Managing Partner, Chancellors Chambers; Christopher Russell, Director of Forestry, Ministry of Environment; Sarah MacDonald, President & CEO, Grand Bahama Power Company; Marlon Johnson,  Senior, VP Marketing & Communications, BTC; Robert Myers, President, V Trade Company, Ltd; and Eleanor Phillips, Director, The Nature Conservancy.
"At the end of the day what attendees want to know is what is really going on in Freeport," Fair added.  "It is evident that a change has already begun with renewed investor interest, public private partnerships and a commitment to taking full advantage of opportunities for further growth and development."
Interested persons are encouraged to register for the informative sessions at the Grand Bahama Chamber of Commerce, Deloitte on East Sunrise Highway, or at the resort on Thursday morning.
By The Grand Bahama Port Authority