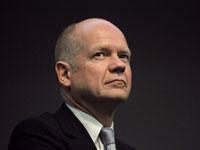 In a strongly worded letter, Britain's Foreign Secretary William Hague described Turks and Caicos Islands (TCI) Premier Dr Rufus Ewing's speech last month to Caribbean Community (CARICOM) heads of government as a substantial misrepresentation to the people of the TCI and to the leaders of the Caribbean.
"I have seen the speech you gave to CARICOM heads of government on 18 February about the relationship between the Turks and Caicos Islands and the United Kingdom," Hague said. "I regret to say you substantially misrepresent both the past and the present situation to both the people of the TCI and to the leaders of the Caribbean."
Hague went on to remind Ewing that the previous government run by his Progressive National Party (PNP) "left behind a chaotic situation including — through incompetence, abuse of power and corruption — rapidly deteriorating public finances."
"As a result, TCI was, in effect, bankrupt. In 2009 the UK government provided emergency funding to enable public workers to be paid. In 2010 we provided a guarantee that enabled the TCI government to borrow up to $260 million at an affordable interest rate in order to enable the government to maintain essential services while bringing public finances back under control," he continued.
Hague said that Britain accepted broad responsibility for good governance in its Overseas Territories and referred to the 2008-2009 Commission of Inquiry in the TCI, which concluded that there was a high probability of systemic corruption among ministers, members of the legislature and public officials in the then TCI government.
The inquiry documented detailed information on corruption, dishonesty and abuse of public office by former premier Michael Misick and other ministers in the previous PNP government and recommended criminal investigation. As a result, Britain suspended parts of the TCI constitution providing for ministerial government and the House of Assembly.
Subsequent investigations have led to 12 former ministers and others being charged and the attorney general is seeking Misick's extradition from Brazil to the TCI.
"Misick is resisting return to TCI and seeking political asylum," Hague said.
Hague also referred to an earlier open letter by Ewing that raised the issue of value added tax (VAT).
Hague reminded Ewing that the British government in 2010 was presented with a situation in which the TCI had an annual deficit of £30 million, which was set to grow significantly.
"This unsustainable situation led to the UK Department for International Development appointing a chief financial officer whose responsibilities were to ensure that this deficit was reduced and that TCI's finances returned to surplus," he said.
By Caribbean News Now!