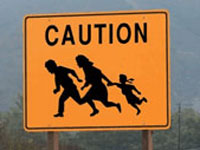 Sixteen Cuban migrants, who were apprehended for illegally entering the Turks and Caicos Islands (TCI) on October 2, 2012, and who were released on a court ordered bail, have absconded and made their way to Florida.
The group reportedly left the TCI by speedboat and island-hopped though The Bahamas to make the approximate 650-mile trip to Miami. Among the group was the mother of US baseball professional Yoenis Cespedes.
The controversial US "wet foot, dry foot" rule favours Cubans who, while illegal migrants, actually arrive on US soil and are then classified as political refugees escaping from a communist country. However, if they are intercepted at sea, they are returned to Cuba.
The ruling party in the TCI, the Progressive National Party (PNP), has a poor record in dealing with illegal migrants. During a former PNP administration, some Haitian detainees died in custody from dehydration.
The mistreatment of Haitian refugees in the TCI became a source of local and regional controversy recently when immigration minister Don-Hue Gardiner called on residents to help track down illegal Haitian migrants and make their lives "unbearable".
Gardiner later tried to defuse his statement by claiming he was not referring only to Haitians but to all illegal migrants.
By Caribbean News Now contributor