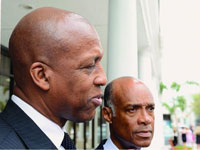 The battle for a substantive injunction that would allow web shops to remain open during court action between numbers bosses and the government will continue for a few more weeks after Chief Justice Sir Michael Barnett yesterday adjourned the hearing to April 2.
Currently there is a conservatory order in place, which was granted by Senior Justice Jon Isaacs on January 30. That was granted two days after a majority of voters said no to web shop gaming and the establishment of a national lottery in the gaming referendum.
That order prevents police from shutting down web shops. The government is seeking to remove the order.
Sir Michael was supposed to hear arguments yesterday but called for an adjournment to allow attorneys Alfred Sears and Jeff Lloyd time to file their arguments to an affidavit filed by the Office of the Attorney General last Friday.
Sears and Lloyd represent Paradise Games. Wayne Munroe represent Island Game, Island Luck, FML Group of Companies, Asue Draw, Whatfall and Chances. Munroe was absent from yesterday's hearing.
Sears argued that the Office of the Attorney General filed a 96-page affidavit at 4:30 p.m. last Friday and he needs more time to respond to it.
Sir Michael asked if it was true that there was no injunction currently in place. Sears said no. "It is subject to your lordship," he said. Loren Klein, senior Crown council, said it is clear that there is no injunction, but simply a interim order. "It cannot be that the Crown's hands be tied on an interim order," he said.
By Travis Cartwright-Carroll
Guardian Staff Reporter