Marathon Bahamas Featured Internationally
March 14, 2013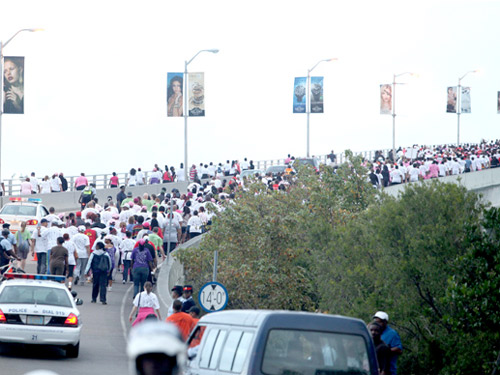 Hundreds of thousands of readers got compelling reasons to join the Marathon Bahamas in 2014, when the Running Times this month published an insightful article on the Marathon Bahamas experience.
Running Times , with a print circulation of 120,797 and 11, 628 online viewers per month, took part in Marathon Bahamas this month by invitation of the Ministry of Tourism. In the article, Editor-in-Chief Jonathan Beverly outlines 10 reasons why runners should choose Marathon Bahamas next winter, highlighting the course, weather, proximity, music and authentic Bahamian cuisine.
Mr. Beverly was born in The Bahamas but had not been back since he was three years old. He spent some time on Cat Island prior to the race in Nassau. He experienced firsthand the ease of visiting the Out Islands and his article encourages runners to extend their stay so they could visit Out Islands as well.
"If you make the race a vacation and travel early to the islands or stay later, it is worth the time and effort to visit one of the 'out islands,' where the sea is not only in sight but takes over the scenery and the senses," Mr. Beverly wrote. "Running by the sea, on any of the islands, seems like an entirely different activity from what you've been doing on treadmills or icy roads the past few months."
Mr. Beverly has run races all over the world and continuously praises his new appreciation for running in The Bahamas which is also conveyed in his article:
"From the early miles, watching the sun rise over boats in the harbor as you cross the bridge to Paradise Island and back, to later miles alongside the distinctive turquoise hues of Bahamian water, to the finish on Junkanoo Beach, the course never lets you forget that you are someplace beautiful and special."
The Running Times feature will also be shared with Running Times' 26,200 Facebook friends and 27,534 Twitter followers.
By Clarence Rolle, MOT