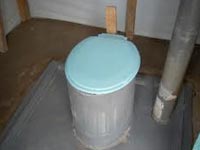 Outside toilets are more frequently used than was reported in a 2010 census report, according to the Department of Statistics.
Statisticians at the department reported that 2,125 people used pit latrines or outside toilets, but that figure was changed.
There are approximately 2,191 private homes that use outside toilets.
The updated report shows that of the 102,758 households surveyed across The Bahamas, 200 Bahamians have no toilet facilities and 1,117 households use "other" toilet facilities, which includes the use of slop buckets or the disposing of waste in bushes, according to an official from the Department of Statistics.
The previous report stated that just over 4,000 private homes in The Bahamas made use of outside toilets, unconventional toilet facilities or are without toilet facilities at all. However, that figure is now just below 4,000.
There are 282 homes with outside toilets that have water pumped into their yards, according to the latest figures.
"It's not just outside toilets but the level of poverty in our country that's under attack by us, and we hope to bring relief to those people who are below the poverty line," Minister of Works and Urban Development Philip Brave Davis said.
Former Prime Minister Hubert Ingraham heavily criticized then Opposition Leader Perry Christie for the fact that outside toilets exist in his Centreville constituency.
Source: The Nassau Guardian