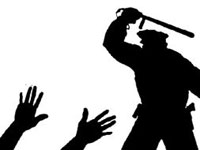 A man who died of asphyxia (lack of oxygen) in police custody last month suffered a neck injury, The Nassau Guardian can reveal exclusively.
Jamie Smith, 35, of Price Street, died at the Central Detective Unit on February 8 within hours of his arrest.
Pathologist Dr. Caryn Sands found evidence of "neck compression", according to an autopsy report provided by Smith's family.
In her opinion, Sands said, "A full autopsy revealed findings consistent with pressure applied to the neck.
"These findings included bleeding into the muscles of the front of the neck and numerous hemorrhages in the eyes, gums and larynx (throat).
"These hemorrhages are due to compression of the neck blood vessels which cause the very small vessels in the eyes and mouth to rupture.
"Pressure on the neck may also affect a structure in the neck that can induce an irregular heart beat and cause sudden death."
The report noted that abrasions on Smith's face, lower abdomen, wrists and ankles and scratches on his neck were recent and occurred "on or around the time of his death".
The circumstances of Smith's death will be investigated by a coroner's jury.
The Guardian understands that the inquest will no longer convene on March 28.
Instead, a new date will be set at that time.
Four officers from the Central Detective Unit who had contact with Smith prior to his death have been placed on administrative leave.
Smith's death preceded the death of 20-year-old Aaron Rolle, who died at the Southern Police Station on February 9 from a ruptured intestine caused by blunt force trauma.
An inquest is currently underway in relation to Rolle's death.
Two officers — Constable 2126 Akiel Smith and Constable 2648 Carl Smith — have testified that they used force to prevent Rolle from escaping through a second floor window.
The custody deaths have led human rights group Amnesty International to call for independent investigations into police-
related deaths.
According to Javier Zuniga, special advisor at Amnesty International, "Authorities in The Bahamas should seriously consider the establishment of an independent body to investigate police abuses and provide such an institution with sufficient resources.
"This would ensure not only greater efficiency in the investigations but would also help restore public confidence in the police force."
By: Artesia Davis
Guardian Senior Reporter