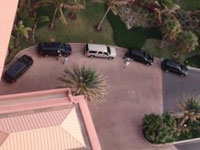 It's spring break, and President Obama's daughters are off on yet another vacation. While the U.S. economy could use a little help, according to Breitbart News, the Obama girls are spending their time – and the taxpayers' dime – in the Bahamas.
The girls' visit to the Atlantis resort was not publicly announced, but Breitbart says their sources have confirmed the information, in addition to social media sightings.
One person who is at the resort wrote: "Rumor confirmed: friends saw the first daughters with a gaggle of friends being escorted to the held elevator."
Via Twitter, another person wrote: "Obama daughters at the same restaurant as me…in the bahamas."
A third tweeted that she was excited to see Sasha and Malia at Club Crush, the Bahamian resort's nightclub for teenagers: "OBAMA'S DAUGHTERS SMILED AND WAVED AT ME. I WAS IN THE SAME ROOM AS OBAMA'S DAUGHTERS."
Club Crush is described by the Atlantis website:
The ultimate nightclub for teens ages 13 to 17 and tweens ages 9 to 13 vacationing on Paradise Island. Crush is a 14,000 square-foot space that boasts an Internet Lounge—complete with multi-touch computers and surface tables with photo editing and publishing interfaced to Facebook, a Gaming Room stocked with state-of-the-art technology… Multi-purpose video walls decorate the Dance Club's VIP sections and a live DJ is accessible via a touch screen song request system.
Neither the Atlantis spokesperson, nor the Secret Service would confirm or deny that the girls were vacationing in the Bahamas.  But a guest at the hotel snapped this photo of the Obama's motorcade:
While White House tours have been canceled and Blue Angels have canceled air shows, there is no report as to what this vacation will cost the taxpayers.s
By Cheryl Carpenter Klimek
BizPacReview.com