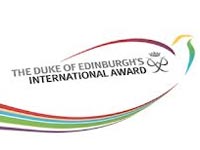 The Duke of Edinburgh's International Award programme, of which the Governor General's Youth Award (GGYA) is an affiliate, is headed in a new direction with its global re-branding effort.
Over 140 countries currently affiliated with the programme will have to incorporate a new, official logo within their current designs. They must also apply to receive a licence to operate and gain accreditation as a branch affiliated with the UK-based, International Award Programme.
Here in The Bahamas, the GGYA's executive national director, Denise Mortimer supports such re-branding. She said as much during the youth programme's Annual General Meeting held this past Saturday at the British Colonial Hilton.
"We're still going to be GGYA. We just have to incorporate the international logo," said Ms Mortimer who explained that the re-branding would ensure that there's no unauthorized duplication of the programme.
"This is good because we want to ensure that the quality of the programme remains intact," said the national director.
Chairman of the GGYA's National Council, Jack Thompson explained further: "The entire programme has been overhauled to give it a new face-lift and to ensure the standard of the programme. One will have to apply all over again to operate the programme."
In about a month the public could expect to see the new design incorporated in the current GGYA logo, said Mr. Thompson.
GGYA has already submitted its application for licensing and has received correspondence from the international programme's regional governing body. The GGYA is in the "advance stage" of its renewal process.
"We have been examined before. Our books have been open to them before," said Mr. Thompson. "We are one of the success stories in this region, and we don't anticipate any problems with our approval. When we consider what we have accomplished, when we look at the success and impact of our programme and wonderful testimonies from past participants. It's a sail through for us."
Aside from a logo change, the global re-branding process includes other components such as licensing and standards, the creating of an on-line record book, on-line communication, on-line leader training and quality assurance.
Now in its 26th year of operations, the GGYA has catered to more than 8,000 youths.
The programme focuses on four components to building a well-rounded individual. Those components are community service, skill, personal fitness and an adventurous journey challenge. After fulfilling time requirements, participants are eligible for a Bronze, Silver, or Gold Award.
By Precision Media For BahamasB2B.com