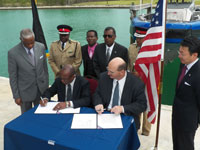 The Royal Bahamas Police Force became the recipient of a 41-foot vessel, generously donated by the Government of the United States of America.
Minister for National Security Dr. Bernard J. Nottage and Commissioner of Police, Ellison Greenslade was in Grand Bahama to accept the gift from U.S Charge d'Affairs John Dinkelman and the U.S. Embassy's Narcotics Affairs Officer David Jea.
Minister of Foreign Affairs and Immigration, Fred Mitchell, was also on hand for the event.
The boat, which was described as a 41-foot Safeboat Apostle Marine Interceptor, is being positioned at the Police Marine Support Service Unit located near the Sir Charles Hayward Yacht Club.
It is designed to further enhance the RBPF's capacity to gather law enforcement information, conduct investigation, and interdict drug and human traffickers operating in The Bahamas.
During the handing over and commissioning ceremony, the Minister of National Security also warn people conducting illegal acts on the sea or in the air, saying that they have the technology to track them from where they leave to where they stop.
He told the gathering at the Yacht Club that the donation significantly upgrades the operational capabilities of the Royal Bahamas Police Force in its efforts to stem criminal activities
"This most significant role is crucial to reducing the amount of drugs and guns entering our country. If this is successfully executed it will lead to fewer guns on our nation's streets, leading to a reduction in firearm related homicides, thereby improving the quality of life for all citizens and residents of our beautiful country," he stated.
Also, he noted the handing over ceremony could not have come at a more appropriate time as it provides tangible evidence of the government's commitment to put every measure in place to address the present level of criminal violence that is plaguing the country.
Continuing, he pointed out that one of the major goals of every progressive government is to provide security and increase the quality of life of its citizens.
"Certainly, this is a priority goal for the Government of The Bahamas, and we are keenly aware that our chances for success are pivoted on the ability to collaborate with other nations seeking the same goal.
"This ceremony serves as a testimony to the Governments of The Bahamas and the United States of America's commitment to suppress and interdict illicit drug and psychotropic substances as well as minimising the impact of human and weapons smuggling in our archipelago," he stated.
The Minister for National Security added that there is too much smuggling emanating from Grand Bahama and Bimini and that there is too much trafficking in the area as well.
Continuing, he said that the Government of The Bahamas continues to shape and guide policies to strengthen intelligence sharing and partnership of law enforcement agencies both at home and abroad.
"Today, I am pleased with the impact of the efforts being made by law enforcement agencies in The Bahamas.  Many of our successes can be attributed to relevant and viable bilateral agreements reached at governmental levels.
"These agreements have provided the conduit for capacity building and strengthening dynamic relationships. The Bahamas law enforcement agencies continue to achieve enormous benefits from Operation Bahamas and Turks and Caicos Island (OPBAT)," he said, adding that that agreement is a testament of three governments will in engaging law enforcement combined efforts.
The Minister further noted that the dynamics of transnational crimes in The Bahamas are significantly influenced by the open seas and air corridors.
"However, law enforcement is committed to diligently monitoring and challenging the movement of go-fast vessels, sailing sloops, commercial freighters as well as light aircrafts that are synonymous with illicit trades. Collectively, we are making major inroads implementing strategic strikes against trafficking in drugs, weapon, and human smugglings," he stated.
He again warned persons against any form of smuggling saying that he has seen the high tech equipment capable of tracking would be offenders. His advice to those persons was, "Stop!  You are going to get caught."
He told the gathering that OPBAT operation continues to yield positive results, and that over the past three years there were 35 successful maritime joint operations conducted in The Bahamas.
Ten of those cases, he pointed out, were connected to cocaine trafficking, totalling 1,124.53 pounds and 25 cases were connected to marijuana trafficking tottaling 14,196.13 pounds.
"This is only the second month for 2013, and OPBAT mission continues to make its impact, driven by intelligence.  Year to date four successful maritime missions were conducted, three connected with cocaine seizures netting 667 pounds and one connected with marijuana netting 2,704 pounds.
"Marine support units are critical to law enforcement ability to protect our borders.  The Government of The Bahamas is committed to providing and has demonstrated its commitment in delivering resources both human and physical to our law enforcement agencies.
"I am extremely pleased to accept, on behalf of The Government of The Bahamas, this wonderful gift of a 41-foot Apostle Open Interceptor vessel, propelled by four 300 Mercury engines, from the Government of the United States of America.
"This gift will position and enable the Royal Bahamas Police Force to increase its interdiction efforts.  Based on past performances I am optimistic that the vessel will be fully engaged in providing much needed support to our law enforcement efforts," he said.
By Simon Lewis
Bahamas Information Services