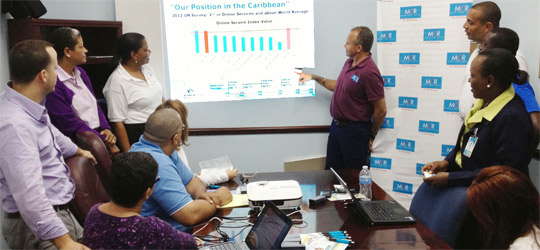 In a site inspection that was anything but routine, members of a local real estate company toured the comprehensive Bahamas.gov.bs website, thanks to a presentation by the Department of Information Technology. Carol Roach, the department's Deputy Director, left of projector screen, shows The Bahamas' site ranking to Mario Carey, CRS, founder of MCR, right of screen. "It's amazing, I had no idea all this stuff was on here," said Carey, immediately urging additional information about the disabled and how to contact NGOs and other charitable organizations. Carey is president of R.E.A.C.H., the autism support organisation.
The website is gaining popularity daily with slightly more than half the viewers searching it for information doing so from outside the country. As part of a campaign to boost usage and registration for online tax, fee and fine payment and services, Minister of State for Finance Michael Halkitis will address Sunrise Rotary Thursday, March 14 at the British Colonial Hilton at 7 am. And the Department of Information Technology is hosting a half-day forum at the Nassau Sheraton Resort Monday, March 21 from 9 am to noon. The edu-forum is free and open to anyone in industry, government, professional firms and financial institutions wanting to improve productivity in their company or association through online, instead of in line, services and transactions. According to Ms. Roach, the forum will be especially useful for information technology professionals. Students and other individuals who do a lot of research will also benefit, she said.
The website is a one-stop online portal for the Government of The Bahamas with links to every government office, agency and department, access to all legislation, online bill payment and more. Visitors to the portal can access 365 governmental forms along with current news, health information, news from the Family Islands and information from various government departments. Bahamas Information Services (BIS) posts news daily.
Diane Phillips and Associates
Photo courtesy of Mario Carey Realty