Red Rose Ball, Polymers Join Forces
March 26, 2013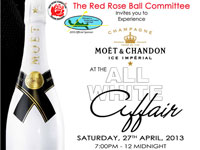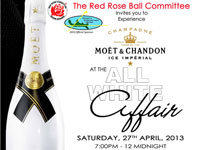 The Red Rose Ball Committee (RRBC) has partnered with sponsor Polymers International to host one of Grand Bahama's most anticipated spring fund-raising events, the 'All White Affair.'
Slated for Saturday, April 27 at the Grand Bahama Yacht Club, the 'All White Affair' event is expected to raise much-needed funds to assist in the completion of a Health Education Resource Center currently under construction in the Pioneer's Loop community.
According to RRBC Chairman Odette Knowles the event is in keeping with the committee's focus of 'Prevention Now' and the building will be used for HIV/AIDS education, counseling, workshops and so much more.
"This project has been long in the making and we are proud as volunteers, to have come this far with the support of the Grand Bahama community endorsing our fund-raising efforts each year.
"The RRBC is very grateful to the Grand Bahama Port Authority as well, for the gracious donation of the property on which the center is being built and this 'All White Affair' event is expected to help the committee to garner additional financial assistance for the completion of the Health Education Resource Center," she said.
A clarion plea is being sent out to the RRBC partners, supporters, the wider Grand Bahama community and the committee's ever-thoughtful United States friends, whom Knowles notes continue to support the RRBC's efforts, as they aim to save a generation through education on the dangers of the HIV/AIDS diseases.
"While the RRBC aims to ensure all attendees of the 'All White Affair' enjoy themselves and have a good time, it must be noted that the importance and purpose of the event will never be absent from our minds during this worthwhile cause.
"We are always excited about the 'All White Affair' as it serves as a teaser to our Annual Red Rose Ball held in November.
"The committee along with the team at the Yacht Club/Boat-house Boutique will put its personal touch to the ambiance of the affair and all attendees through the sponsorship of Moët will have an opportunity to sample Moët ICE, which will be introduced to The Bahamas for the first time at the event," Knowles said.
Attendees should also enjoy the soothing Jazz music that will be played throughout the event and the raffle, which has a number of top quality prizes that is already causing quite a stir.
Knowles declared, "the RRBC wish to thank all supporters and notes that through the community's presence on the evening and kind donations they would have generously contributed to this global initiative, which will sustain the committee whose role it is to inform and educate our community about HIV/AIDS.
"We invite the entire Grand Bahama community to continue to assist in this great and worthy cause, help us spread the word and encourage others to participate.
"Let us all also generate excitement for our Annual Red Rose Ball, which is slated for November 2nd, 2013 as we depend on you for its future success and again we thank you the Grand Bahama community for your faithfulness and support.
"In regards to the 'All White Affair' let us always remember, like the rose, which serves as the trademark for this event, these causes need to be nurtured otherwise their significance will wither away."
By: Sharell Lockhart
Freeport News Reporter