The weather held (mostly), and all participants – human and animal – enjoyed a fun time at the Bahamas Humane Society/Pedigree Animal Fun Day this past Sunday.  The Bahamas Human Society (BHS) thanks the many people and companies that helped support the BHS for this day of family fun.
Raffle Winners Announced:
The BHS grand raffle was drawn at Fun Day.  The winners are: First Prize: a trip to London for two — Ticket  0628 Mr. P. Kneale Second Prize: a trip to New York for two — Ticket  0805 Karen Barnett Third Prize: a week vacation to Cat Island — Ticket  0319 Superwash Fourth Prize; a weekend getaway to Treasure Cay, Abaco —   Ticket  0604 Jenn Stack Fifth Prize: a $1,000 Super Value voucher — Ticket  0757 Roni Davis Reed Sixth Prize: a weekend getaway to Fresh Creek, Andros — Ticket  0313 Emily Stanly Please contact the BHS to claim your prize.
Upcoming Events:
Two more important BHS events are coming up this Saturday, flyers attached. From 9 a.m. to noon, we'll be at Dog Day at Old Fort Bay at the Old Fort Bay Park and Playground.  Come and meet some puppies, buy some dog/cat toys, purchase a copy of Maya Moon, and learn more about the BHS summer camp. From 11 a.m. to 5 p.m., the BHS will be at the BSFN Boat Show at Palm Cay Marina on Yamacraw Hill Road with dog and cat toys for sale along with BHS merchandise.
Also this weekend, on Sunday, April 28th, is Roger's Scavenger Hunt.
Roger's Mom, Lissa says: "As many of you know, we rescued Roger during Operation Potcake. We originally thought that he had to be euthanized, but he showed such incredible spirit during his first few hours with us that we decided to do whatever it took to bring him back to life! And so our Roger love story began. His transformation has been remarkable to watch, and he has a personality to match! He recently had to undergo a delicate 5 hour orthopedic surgical procedure in Florida to save his right front leg. Although the clinic gave us reduced rates for the surgery, his bills have come to over $5000.
On Sunday, April 28th, the BHS is hosting an adventurous Scavenger Hunt covering Paradise Island, Bay Street and the Palmdale area to raise funds for Roger's treatment. The event will begin at Green Parrot East Bay Street at 1pm (actual start time will be 2 pm) and all teams MUST be back at Green Parrot by 4 pm. Each car/team may have UP TO 5 PEOPLE, and it will cost $10 a head.  Prizes will be awarded to 1st and 2nd teams!"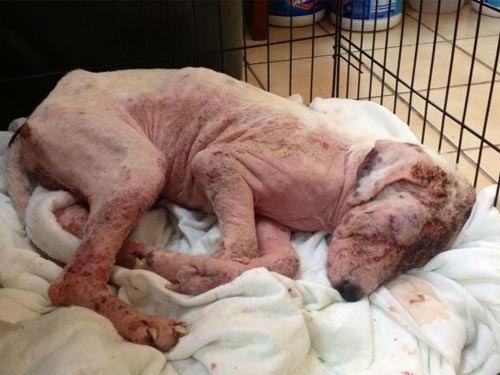 Planning ahead?  Save this date!  
The BHS will be joining with the Meah Foundation for an event on June 1st.  BHS animals and Roger will be featured on the next line of the Meah Foundation's snap bracelets.
The BHS Summer Camp registration is now open.  Children aged 6 -13 are welcome at these animal-filled educational weeks.  Cost is $125.00 per week, and camp runs from 9 a.m. to noon each day.  To register, please call or come into the Shelter (or see us this weekend at the events!).  For more information, please see the attached flyer.
There have been many dog and puppy adoptions over the past month at the BHS. Thank you to all those who have helped the BHS continue its mission helping all the animals of the Bahamas!
Captions: Top: Beautiful, spirited Roger after treatment, love and care. Below: Roger 'before'