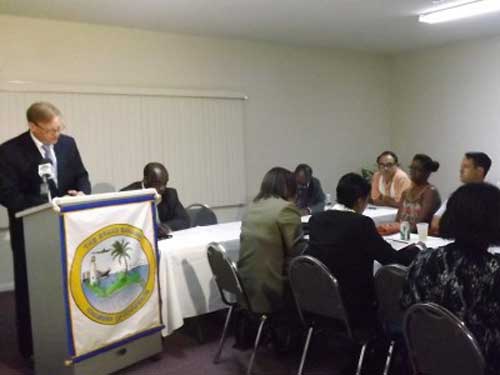 On May 4th 2013, the Elizabeth Small Business Symposium will be launched for all constituents that are business owners or those interested in starting their own businesses.
As a part of Ryan Pinder, MP for Elizabeth's Economic Opportunities platform, the Elizabeth Small Business Symposium was designed as a program to educate, train and prepare residents of the Elizabeth constituency to enter into and enhance their own business.
Minister Pinder described the program as vital to existing and aspiring small business owners as an important focus of the symposium is to prepare the participating residents to apply for the small business grant programs offered by the Government of the Bahamas.
Workshops will be facilitated by consultant Mr. Mark Turnquest on May 4th, May, 11th, May 18th and May 25th between 9am-12noon each day. There will be four (4) sessions to maximize participation.  The objectives of the symposium are:
•    To inform new entrepreneurs about the logical steps to successfully start and manage a business in The Bahamas.
•    To help small and medium size enterprise (SME) owners develop and execute business plans in an effective and efficient manner.
•    To provide business executives with strategies on how to build the perfect business model and to advocate the importance of seeking professional advice from management/marketing consultants, lawyers, accountants etc.
•    To report on the progress of the SME Act and SME Developing Agency.
Symposium is free for all constituents and all individuals interested are asked to register early as limited space is available.
For more information please contact the Elizabeth Constituency Office at 364-3145 or via e-mail RyanforElizabeth@gmail.com.