Top Real Estate Agent Works Smarter
April 22, 2013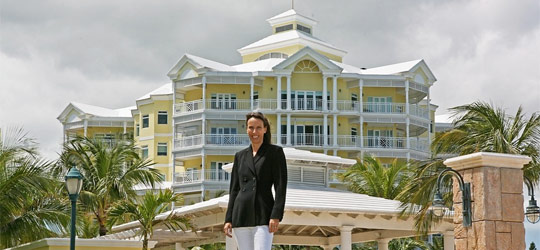 "Work smarter, not harder" is the softly spoken mantra of Bahamas Realty's three time Top Producer Silvina M. Andrews, Broker, BRI, CRS.
This quiet leader won the company's extremely competitive Top Producer Award in 2007, 2010 and 2012 and also won its "Most Improved Agent" title in  2010.
She explains how to succeed, even in tough times, without appearing to be overworked or even stressed out. "Purchasing a home should be fun and exciting. I try very hard to take on the stress so the client doesn't have to.
"Real Estate is a service industry and clients will remember the entire experience. So I take the time to step out of the box and make their experience memorable," she says…quietly.
When Mrs. Andrews does speak, the whole room leans forward to listen, whether she is speaking flawless English or Spanish. (Born and raised in Buenos Aires, Argentina, she grew up in Canada, where she completed her education before moving to Nassau at age 22.) She uses her multi-cultural  background to ease transitions for her cosmopolitan mixture of clients.
She explains her success in difficult times–when other agents struggled–saying, "The biggest challenge this past year was simply not having the number of clients that I would usually see through referrals and advertising.  Also, with the instability of the market, buyers have difficulty making the commitment."
She adds, "During these difficult times it has also been difficult for buyers to find financing.  I've had a couple of experiences this year in the luxury market where financing fell through time and time again but, thankfully, I have built some relationships during my time in this business. With the clients' trust, we managed to make it work.
"Some good luck is always helpful as well!!"
When Mrs . Andrews started at Bahamas Realty there were only three sales agents.  Now there are 14, in Nassau alone. Adroitly snapping shut the  bright red ipad which has replaced her laptop, she recalls, "When I started, there were no computers, no cell phones.  I spent several hours a day with my head in a file cabinet looking for listing files. They had to be filed back at the end of the day (yuck),  but it somehow seemed simpler then.
"I have seen BRL evolve through many ups and downs in the economy, a growth of about a 1000 per cent in the sales department, and too much new technology to even count. "
She credits the partners at Bahama Realty Ltd. for enabling her to combine success in business and at home.
"The partners always showed the confidence that I needed to adjust my work style to my personal life, and still be successful. I was able to raise my son, who is now 15-years-old, without missing one single school play or baseball game. My husband (Phillip) and I have had the opportunity to travel extensively and also to enjoy our life in this beautiful country. I have been able to balance my life and dedicate time to friends and family while succeeding at work."
Mrs. Andrews joined Bahamas Realty in 1996 and received her Real Estate Broker's License from the Bahamas Real Estate Association in 1999. Now a Bahamian citizen, she has a thorough knowledge and love of the Islands, most of which she has seen up close while boating with her family.   Her professional affiliations include: Luxury Portfolio, Leading Real Estate Companies of the World, Whitten Caribbean, Luxury Real Estate, and NAI Bahamas.
Silvina joined Bahamas Realty's top executives attending the Leading Real Estate Companies of the World Convention in Las Vegas earlier this year.  She reports from this gathering, "By the end of 2013, the U.S. is expecting a real upturn in real estate because of pent up demand and a low inventory of available properties in many areas.
In the Bahamas, we usually follow the US market — up or down — by about 6 to 12 months. I was quite impressed with the power and global reach of our affiliation with LeadingRE and its luxury division, Luxury Portfolio International. "
"LeadingRe links more than 500 top independently owned real estate firms, with nearly 140,000 associates in more than 30 countries. Only 200 members of this select group of 500 companies are members of the luxury marketing brand, Luxury Portfolio International, of which Bahamas Realty is a member.
"Together we sell more real estate than any franchise. We are Number One with $235 BILLION in annual home sales in the US alone."
"Silvina's wit, easy going nature, intelligence and professionalism all appeal to high worth clients who value personal service and privacy. And, her fluency in both Spanish and English, plus travel experience in many cultures, are great assets for international clients whether relocating to The Bahamas or searching for investment properties," says Bahamas Realty CEO W. Larry Roberts, SIOR, CIPS, CRS, e-PRO, RECS.
With the quiet voice of reason, Silvina offers clients and colleagues a wealth of experience with the international market and a comprehensive understanding of relocation needs, family dynamics and cultural diversity. Prior to joining the Bahamas Realty team, she served as a marketing director in the resort industry and brings that perspective to Bahamas Realty sales meetings.
She laughs, also quietly,  and says, "Real estate really allows you to use all your talents and experience. In this business, it's important to work smart and not spread yourself thin."
"Sil", as she is affectionately known, already has closed high-end sales in 2013 and says, "It doesn't take many big sales to turn our tiny luxury market around."
She concludes, "I see my career as a business and I try to make every actual working minute count for me and for my clients."
By P. S. News/Features
Caption: in front of Bay Roc