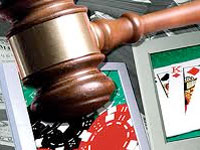 The government has drafted a proposed Gaming Act that would allow local casino operators to facilitate online and mobile gambling.
While casino operators will benefit from the new law, local web shop operators are angered that their only possible option to keep from going out of business may be an ongoing legal battle.
The bill would make legal "interactive gaming", which would permit gambling "through communications technology and accessed over the Internet".
It would also provide for "proxy gaming", which is defined as "the placement of a bet or wager on a gambling game by a player located within a permitted area, using any communications technology or device, including the Internet or intranet, wireless, wire or cable, radio, light, optics, microwave, smartphone or mobile device, or computer data network…"
The proposed legislation would allow hotel guests to gamble at pools or beachside on smartphone technology or hand-held tablets,
The accompanying regulations stipulate that a mobile communications device used for gambling must be designed or programmed such that it may only communicate with approved mobile gaming systems.
The bill also provides for the issuance of junket operator licenses.
But web shop owners see the proposed bill as discriminatory.