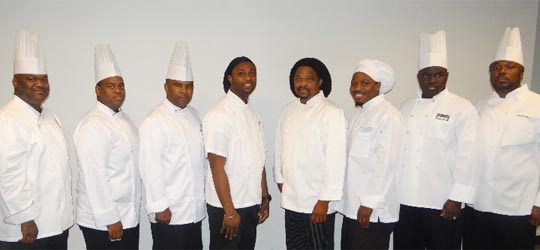 The creative culinary juices are flowing as some of our nation's top chefs prepare to enter the region's prized 'Taste of the Caribbean' competition.  The Caribbean Hotel and Tourism Association's annual event will feature more than 14 national teams vying for individual and team gold at the Hyatt Regency in Miami from June 27th to June 30th.
The team has been practicing weekly for several months, honing their skills, building teamwork and creating spur of the moment dishes from a 'mystery basket' provided by Team Manager and Executive Chef Devin Johnson from the Sheraton Nassau Beach Resort.
"We've put together a well-balanced team this year of seasoned chefs and several young aspiring chefs.  We're focusing on the basics which the judges will first assess us on, while challenging ourselves to creatively blend the best of Bahamian, Caribbean and International flavors.  Within that, we must turn heads with the quality of our presentation.  I'm excited about this team's potential" states Chef Johnson.
Joining Chef Johnson on the team is:  Emmanuel Gibson, Executive Chef at the One and Only Ocean Club; Sheldon Tracey Sweeting, an independent award-winning pastry chef; Simeon Hall Jr, independent chef; Chef Charon McKenzie, Jr. Sous Chef from the Lyford Cay Club; Chef Ron Johnson, owner of Savory Art; Chef Jamal Small, Dune, One and Only Ocean Club; Chef Ancilleno Solomon, Jr. Executive Sous Chef, Luciano's of Chicago; and Junior Chef Dwayne Sinclair, a student at Lincoln Culinary Arts Institute.
The competition is sponsored by the Bahamas Hotel and Tourism Association in cooperation with the Ministry of Tourism and the Bahamas Culinary Association.  In addition to receiving support from the team member's companies, major corporate sponsors are BTC, Bahamas Food Services, Bahamian Brewery and Beverage (Sands Beer), the American Hotel Register, and Bristol Wines and Spirits.
"The Bahamas Hotel and Tourism Association and the Ministry of Tourism are pleased to support our nation's participation in this noted competition.  We wish to congratulate and thank this year's team members and financial supporters for their commitment to the continued development of their culinary arts.  The quality and uniqueness of our cuisine has become a distinguishing and contributing part of our tourism offering." states BHTA President Stuart Bowe.
Bahamas Hotel & Tourism Association