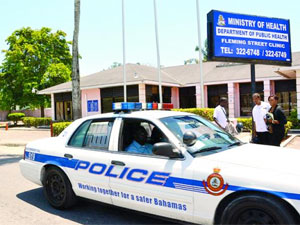 A shootout on Fleming and Dunmore Streets between rival gangs Tuesday morning left many area residents scrambling for cover and in fear for their lives, according to eyewitnesses.
According to police, officers rushed to the scene shortly before noon after receiving reports that multiple gunshots were heard near the Fleming Street Clinic.
Police said it was the second time in 24 hours that they were called to the area about a shoot-out, which they believe has stemmed from a turf war.
Several of them, who spoke to The Nassau Guardian on condition of anonymity out of fear they would be targeted, said gunshots have been fired in that particular area for the last few days and Tuesday as many as 30 gunshots were heard.
Many of them said they are living in fear, but are more concerned about the lives of the many young children who live in the area.
A concerned mother and resident said she has been too afraid to walk through her own community for fear of becoming another murder victim.
"…This corner is called Dunmore Street, but this isn't Dunmore Street, this is gun lane," said the resident as she pointed to a bullet lodged in her wall just behind where a large gas tanker was parked.    "Everyday I can't sleep, you can't go anywhere, they are coming out in the road and [shooting]."