Insurance Professionals Get Firsthand Glimpse into E-Government Site
May 6, 2013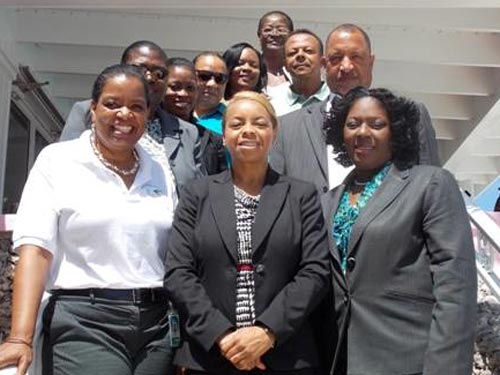 Officials of the Department of Information Technology in the Ministry of Finance continued hitting the pavement to share the message on the government's e-portal, Bahamas.gov.bs to boost usage and registration on the site through a round of mini presentations to various professional and civic organizations.
Most recently, members of the Bahamas Insurance Association and the Bahamas Insurance Brokers Association got a firsthand glimpse into the e-government site through a tour led by Carol Roach, Deputy Director Department of Information Technology.
"We've seen a steady increase in the number of persons registering on the site and are pleased with the response," said Roach. "The personal presentations go a long way in helping people understand how much information and how many services are available to them on the site and through the portal."
Government launched the site to re-position The Bahamas to compete in an increasingly sophisticated online world where everyone expects current information to be available with a quick scroll or click of a mouse.
The website provides links to services in every government agency and department, 365 governmental forms along with current news, access to legislation, news from the Family Islands, health information and a secure means for online bill payment.
"Feedback has been encouraging. This demonstrates that the direction the department is heading in with regards to the online content and services is long overdue," said Roach.
Diane Phillips and Associates
Caption: Assuring the insurers — Members of the Department of Information Technology at the Ministry of Finance recently led the Bahamas Insurers Brokers Association (BIBA) through a virtual tour of the government's comprehensive website, Bahamas.gov.bs. The presentation is one of several being offered to professional and civic organisations to spread the word about the convenience of registering on the site to conduct business with government.
According to Carol Roach, front, left, Deputy Director, you can now renew driver's license, pay real property tax, pay a court fine, or review jobs posted by the Department or Labour. More than 300 downloadable forms are also available on the site that was launched to create a one-stop information source for everything from the Constitution to current Family Island news with links to every government ministry and department. President of the BIBA is Tanya Woodside, front centre. (Photo Jazmine McPhee, DP&A)