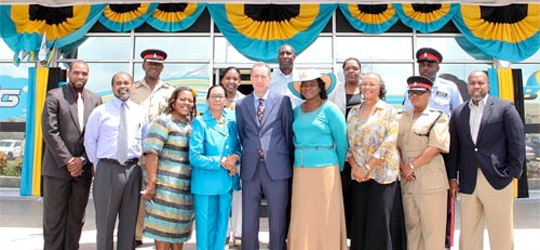 To mark the 40th Anniversary of The Bahamas Independence, The Bahamas Telecommunications Company (BTC) has announced it is investing in excess of $320,000 in several community programmes and charitable causes, as well as launching a series of BTC customer discounts via specialty promotions.
BTC Senior Vice President of Brands and Communications, Marlon Johnson, explained at a Press Briefing that the 40th Anniversary financial gifts of support are another way the company gives back to the community.
"All this year we have given financial aid or material and human support to various causes as a part of our gift to the nation in this 40th Independence Anniversary year.  The announcement today is about our additional community projects and is a further celebratory gesture to the government and people of The Bahamas as a part of BTC's 40th Anniversary Gift to the country."
Mr. Johnson said the first of the customer 'give-backs', 'Free Nights', began on June 24th and will run through July 26th.   "Until July 26th BTC mobile customers can, for $1.69, get an 11 hour night time pass to make unlimited local calls and texts to other BTC subscribers between 8:00 pm and 6:59 am the next morning.  We have a series of these customer promotions that will roll out over the next few months."
Mr. Johnson listed the Anniversary projects to be activated over the coming weeks.  BTC is donating $100,000 over five years in support of the underwriting a Sick Kids Telemedicine Lab at the Princess Margaret Hospital, in Nassau. The facility will allow doctors locally to discuss, analyze and agree with specialists at the Children's Hospital in Toronto, a course of treatment for children in The Bahamas with cancer.
Starting in September, COB students will have access to $50,000 through a BTC scholarship donation to the College of The Bahamas. BTC scholarships are available to students of varying disciplines who demonstrate academic achievement and a genuine need. 2-  Part proceeds will also go towards COB's endowment fund.  BTC has committed to this scholarship for 5 years.
BTC is also a sponsor of the much anticipated official Ball of the 40th Independence Anniversary celebrations, The Legacy Ball and BTC has provided funding as one of the top corporate participants in the event.                     .
BTC is also the lead sponsor of the opening night of a series of celebratory parties each Thursday at the Taino Beach Grounds in Grand Bahama. The first night 40th Independence Celebration BTC event will feature entertainment by Ira Storr, The Spank Band and Stilette 'n Puzzle.
BTC is a sponsor of the first Bahamian ICON awards, another official 40th Independence Anniversary Independence event which will take place on July 13th  BTC's CEO Geoff Houston will present the Humanitarian Award.
Also in July, the Coconut Grove Heroes Park will be officially opened. The ceremony is a rededication and unveiling of the Heroes Wall, which was underwritten by BTC sponsorship monies in conjunction with Careers Builders. The Heroes wall is a tribute to those prominent Bahamians born or raised in Coconut Grove who have contributed in a meaningful way to the development of The Bahamas. Career Builders is renovating the park free of charge.
As a part of its ongoing commitment and partnership with Urban Renewal, BTC will make a donation of $20,000 to the Urban Renewal Marching Band.  The monies will pay for additional band instruments and equipment, providing the opportunity for more children from the Urban Renewal areas to expand their knowledge base with correct musical instruction and participate in band performances.
BTC staff will also participate in the celebrations. On July 9th they will participate in a companywide T-shirt day in celebration of Independence.  All employees will also receive a commemorative gift package. This is BTC's gift to its employees and will contain specially designed commemorative keep sake items.  There will also be several fun staff 'Grill & Chill' events on New Providence, Grand Bahama and Abaco.
The Bahamas Telecommunications Company (BTC) is the leading telecoms operator in The Bahamas. BTC is jointly owned by Cable & Wireless Communications (51%) and the Government of The Bahamas (49%). Cable & Wireless Communications has both management and Board control. – PHOTO  CAPTION  & picture L to R below
Serena Williams
PHOTO CAPTION
To mark the 40th Anniversary of The Bahamas Independence, The Bahamas Telecommunications Company (BTC) has this year, made donations totaling $320,000.  This week they presented cheques to several more communities and charitable causes and launched a series of BTC customer discounts via specialty promotions. Photo: Addis Huyler-Sidda Design for the ICON Awards; Dr Robin Roberts for Sick Kids Telemedicine Facility Princess Margaret Hospital; Superintendant Stephen Dean – Urban Renewal; BTC Customer Service Rep Sharon Seymour; Dame Marguerite Pindling & Monique Pindling-Legacy Ball chair; BTC CEO Geoff Houston; Trevor Wright-Career Builders – Heroes Park; Cynthia 'Mother' Pratt-co-chair Urban Renewal; Anya Symonette, Urban Renewal; Earla Carey-Baines Executive VP COB for COB scholarships; Superintendant Carolyn Bowe Urban Renewal; RBPF Officer Theodore Campbell Urban Renewal Band Conductor.   Photo by Ferrano Ferguson