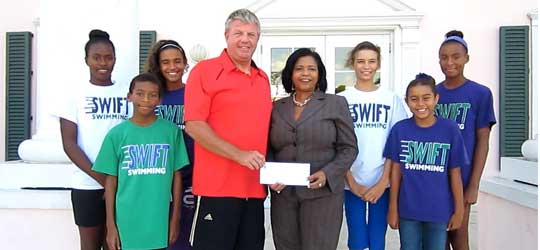 A local swimming club is looking to make a splash at this year's Nationals, slated to be held June 20 – 23 in Nassau.  Helping them along the way is The Grand Bahama Port Authority, Limited (GBPA).
Geneva Rutherford, GBPA's Director of Community Relations recently made a cheque donation to Andy Loveitt, coach of the Swift Swimming Club, formerly Lucayan Lightning swimming team. According to Coach Loveitt, the club's mission is simple, "to allow all swimmers in Grand Bahama a chance to realise their full potential in a friendly atmosphere on a team working towards success at all levels of swimming."
To date, the 30-plus swim team has senior swimmers who are ranked top in the country and the Caribbean, and young swimmers who are showing great promise.  Since 2011, they have participated in numerous meets including the World Junior Championships, CARIFTA and Nationals.  They have broken four CARIFTA records and over 20 National records, and in 2012, swimmer Joanna Evans was awarded 'best swimmer' in the 13/14 age category for her record-breaking swim in the 800 meter freestyle.
"The Port Authority was pleased to sponsor Swift Swimming as they prepare for the upcoming Nationals," stated Rutherford. "When we reviewed their previous accomplishments, it became a joy for the company to offer some assistance because they've done so very well.  We have hopes that they will do exceptionally well later this month in Nassau."
Coach Loveitt expressed his gratitude for the corporate support rendered.  "This donation is really meaningful to Swift Swimming.  We continually have to go to Nassau to compete in meets and it becomes a major burden for the parents to try and fund them.  So, for the Port Authority to come in with this donation, it really is going to help a long way towards travel down to the Nationals," he said.
As a sponsor of numerous sporting disciplines, GBPA is committed to the overall growth of the island's youngsters. "Over the years we've supported all types of athletics," explained Rutherford.  "We're living in The Bahamas and swimming is critical to our country.  Additionally, it's an individual sport that teaches self-discipline.  That daily commitment of having to practice is a major contributor to the development of someone's character which carries over to every aspect of life."
By Deidre Rahming