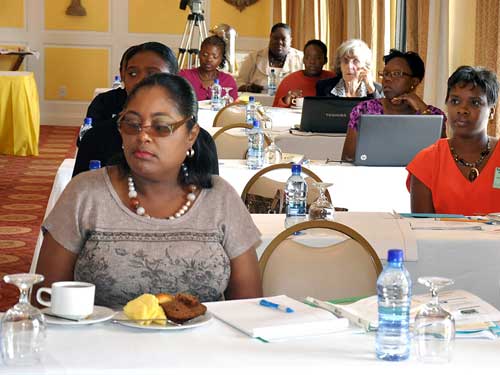 The Ministry of Education, Science and Technology in conjunction with the International Development Bank sponsored a five-day seminar under the theme, "Strategies and Best Practices for Improving the Educational Support Services for Inclusive Education".
The seminar was held from Monday, June 17 to Friday, June 21, 2013 at SuperClubs Breezes, Cable Beach. Guest presenters were Dr. Rosemarie Allen, the former Associate Superintendent of Student Services and Special Education in the Dallas Independent School District and a Licensed Psychologist; Dr. Adam Scheller, a Licensed Psychologist and Certified School Psychologist employed as a Senior Educational Consultant with Pearson Clinical Assessment and Mr. Andre Banks, the Director of Implementation for Psychological Software Solutions, Inc.
Members of the School Psychological Services Unit organized sessions to address the four (4) topics Learning, Language, Emotional Behavioral Disorders among Students and Effective Interventions for Students with Emotional Behavior Disorders. Attendees addressed issues impacting students with a view to examine core beliefs and values concerning gender identity, sexual abuse, grief and loss, and substance abuse. The final day ended with a session on building an action plan for schools and or students based on what was learnt during the five-day seminar.
By The Ministry of Education, Science and Technology