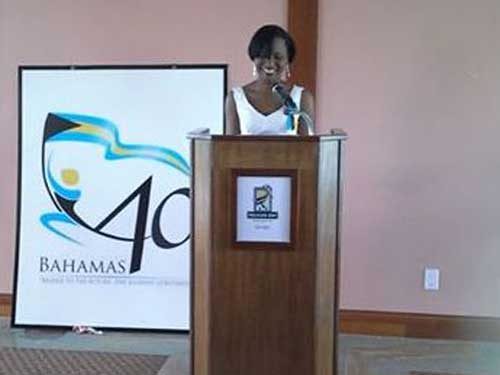 As part of 40th Independence celebrations on Grand Bahama Island, a host of young ladies recently attending  the Girl's Empowerment conference were encouraged to 'Rise Up' and make life-changing decisions as they face the future.
In addressing the youngsters, keynote speaker, Ginger Moxey, Deputy Chair, Independence Anniversary Committee and Vice President, The Grand Bahama Port Authority, Limited (GBPA) stated, "The theme of this conference 'Girls Rise Up' is quite timely considering that this is the 40th year celebrations of the Independence of our great country and you are the future leaders of The Bahamas.  So, take your rightful place!"
The conclave was chosen as a 40th Independence calendar event so as to have a long-lasting effect on those gathered.  "These celebrations need to be primarily focused on impacting lives and I would like for each of you to recognize how important you are to the further growth and development of our beautiful country," she added.
Citing examples of previous female trailblazers in politics, business, education, and medicine, Moxey then recounted a personal story of how a little girl from Grand Bahama, who was raised by an illiterate mother, determinedly overcame many challenges to eventually become Vice President of the city's municipal authority.
"I say all of this to you today, to tell you that no matter who your parents are; no matter where you come from; no matter what challenges you have in life; you can do anything, anything, if you set your mind to it," she implored. With a firm belief in the view that the choices we make in life directly relate to how successful we are, Moxey encouraged the young girls to "Rise up, respect yourselves and others, and make a difference. Rise up and utilize Facebook, Twitter, Instagram and the rest of social media for things that are positive and uplifting." She also invited the women of our country to become mentors to such eager participants.
"In the coming weeks, as we celebrate our country's Independence, a sense of pride should be swelling in us.  Let us all dig deep to remind ourselves of where we come from, where we intend to go, and the difference we intend to make on our island, and throughout The Bahamas," she concluded.
By Deidre Rahming