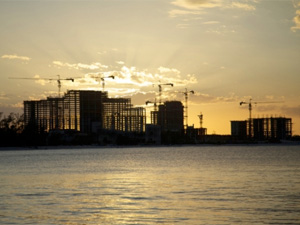 This past February, Baha Mar celebrated the topping out of The Baha Mar Casino & Hotel, marking the halfway point of its construction timeline. In May, it announced the selection of its casino management partner, Gaming Global Asset Management (GGAM), an important accomplishment in the resort's development.
Now, Baha Mar marks another milestone in a year of substantial progress by announcing its senior operating executives for Rosewood at Baha Mar, Grand Hyatt at Baha Mar and Mondrian at Baha Mar.
The newly appointed General Manager of the ultra-luxury Rosewood at Baha Mar, Luis Fernandes, is an accomplished hotelier with proven international experience in managing and operating some of the world's best hotels and resorts.  Fernandes rejoins Rosewood and was the former Managing Director of the world-acclaimed Las Ventanas al Paraiso in Los Cabos, and executive assistant manager of Rosewood Hotel Al Khozama.  Fernandes most recently served as Chief Operating Officer for Longevity Wellness Worldwide in Portugal after holding positions such as Chief Operating Officer at Ty Warner Hotels & Resorts and Executive Vice President of hotel operations at Viceroy Hotel Group.
Focused on upscale global leisure travelers, and international conference and incentive guests, Grand Hyatt at Baha Mar will be led by Greg Saunders, a senior executive with 32 years of experience with Hyatt Hotels Corporation, Marriott International and MGM Mirage specializing in the management of large convention hotels and casino properties. Saunders is well known in the industry and has an extremely strong sales and marketing background that includes pre-opening activities for new hotel properties. Hyatt Hotels recognized Saunders as General Manager of the Year in 2012. Grand Hyatt at Baha Mar has already booked its first convention groups, 17 months before the resort is scheduled to open in December 2014.
Cate Farmer has been named the General Manager of Mondrian at Baha Mar, Morgans Hotel Group's boutique lifestyle hotel featuring cutting-edge design. Farmer has almost two decades of experience in the hospitality industry with well-known, global hotel companies. She has previously held executive positions at Morgans Hotel Group properties including Mondrian South Beach and, most, recently, Ames in Boston. Farmer is a two-time winner of the Marriott Golden Circle Award for sales achievement and was a member of the Diversity Council at Marriott International. In addition to promoting diversity within the hospitality industry as a Green Lodging and Environmental Advocate, she is also involved in benchmarking sustainability practices.
"These talented new leaders of the senior management team at Baha Mar have a wealth of experience and a great deal of passion for their brands and the hospitality industry," remarked Tom Dunlap, President of Baha Mar. "They are a perfect fit with the Baha Mar brand and will be critical to shaping a world-class guest experience not only at their respective hotels, but also across the entire resort."
In addition to filling these senior executive posts, the resort has recently posted more than 50 job openings including project managers and recruitment managers in a strong move to ramp up its recruitment efforts.
About Baha Mar
Scheduled for opening in late 2014, Baha Mar will boast a total of 2,200 hotel rooms, spread across four major hotel brands including Rosewood Hotels & Resorts®, Mondrian, a Morgans Hotel Group property, Hyatt Hotels and Resorts, as well as the new, dazzling centerpiece of Baha Mar, The Baha Mar Casino & Hotel. Baha Mar's stunning, new 100,000 square-foot casino will be one of the most compelling and exciting gaming experiences in North America, comparable only to the best in Las Vegas.  A total of 307 private, freehold residences are available for sale and located within each of the hotels, offering a lifestyle choice to suit all buyers.
Baha Mar will also feature some of the most advanced and versatile convention facilities in The Bahamas, with a combined 200,000 square feet of space, portions of which also can double as an entertainment and sports venue. Other amenities will include 200,000 square feet of retail and entertainment experiences, combining upscale shopping boutiques with authentic Bahamian arts and crafts galleries, chef-branded restaurants and exciting nightclub and entertainment offerings.
More than 20 acres of beachfront experiences will transport guests to the natural habitat of The Bahamas. Pristine beaches with crystal clear waters are set along exciting pools, groves and coves where docile sea animals abound. Two unique spas, including one of the most complete spa experiences in the Caribbean, will be set along 3,000 feet of one of the most pristine beaches in the world. The planned 18-hole Jack Nicklaus Signature Golf Course will be one of a select few top-tier Nicklaus courses in the world, bringing a new, true championship course to The Bahamas.
For more information, please visit www.bahamar.com
SOURCE Baha Mar