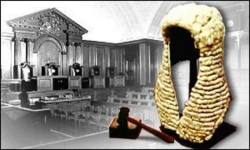 According to a witness statement given to the Barbados police by an individual claiming knowledge of the transaction, a Cayman Islands banker said that he "had to pay a high court judge one million US dollars" to facilitate the theft of over US$4 million from a bank account in the Cayman Islands.
Last year, Caribbean News Now reported the efforts of a Trinidadian woman, Sherene Mongroo, to follow a trail of fraud and money laundering in relation to her late father's estate, believed to be valued in the tens of millions of dollars, that stretches through the Caribbean from Guyana in the south, through Barbados and the Cayman Islands, to The Bahamas in the north.
Since our earlier story, startling new documentary evidence has revealed the apparent complicity of prominent attorneys in Guyana and Barbados, along with a Cayman banker, in the theft of over US$4 million from a bank account in the Cayman Islands, and allegations that a judge was paid off to the tune of US$1 million.
As previously reported, the story begins in Guyana with the death on August 15, 2010, at the age of 82, of Yusuf Mongroo, who was originally from Trinidad but established a well known and extremely lucrative business in Guyana called Horse Shoe Racing, an off track bookmaker. He also owned and raced thoroughbred horses in Barbados and the US.
According to copies of documents in our possession, a cheque purportedly signed by Yusuf Mongroo and dated August 3, 2010, in the amount of US$4,391,851.00 made payable to Sasedai Persaud, an employee at Horse Shoe Racing, and drawn on Mr Mongroo's multi-million dollar account with First Caribbean International Bank (FCIB) in the Cayman Islands, was presented to FCIB for payment on or about September 13, 2010, some four weeks after the death of their customer. It is evident from the cheque itself that the date, payee, amount and an endorsement on the reverse were all completed in Persaud's handwriting.
The cheque had been endorsed by Persaud to Weekes, Kissoon, Deane, a law firm in Barbados, which in turn attempted to negotiate the cheque though its bank in Barbados.
Although the cheque in question was returned by FCIB on the grounds of insufficient funds in Mr Mongroo's current account (the bulk of his funds being kept in a certificate of deposit), the cheque was in fact already void on the grounds of Mr Mongroo's prior death.
According to a signed written witness statement made to the Barbados police, along with corroborating evidence including contemporaneous emails, Ralph Ramkarran, a prominent attorney and former speaker of the house in Guyana, following the non-payment of the cheque, allegedly enlisted the help of Ali Mudeen, the then managing director of ATC Trustees (Cayman) Limited, and also a former employee of Ramkarran in his law office in Guyana, to gain access to the funds in the Cayman account.
Subsequently, on or about January 28, 2011, a Caymanian woman — a low level airline employee with no prior experience or expertise in administering multi-million dollar estates — walked into the offices of FCIB in the Cayman Islands, purporting to be the executrix of a probated will said to have been made by Yusuf Mongroo on August 6, 2010, and expressed to be limited to his assets in the Cayman Islands.
The woman instructed FCIB to wire transfer the balance in excess of US$4 million in Mongroo's account to the Bank of Bahamas for the account of the purported sole beneficiary of his Cayman estate, a mysterious and hitherto unknown Bahamian entity called the "YM Guy-Caribe Foundation".
FCIB complied with this request, apparently failing to enquire and/or notice that the so-called YM Guy-Caribe Foundation had not been established until November 5, 2010; in other words, almost three months after the Cayman will had purportedly been executed.
According to the witness statement to the Barbados police, Mudeen told his apparent co-conspirators that he "had to pay a high court judge one million US dollars" and the rest of the $4 million-plus was to be divided as follows: Ramkarran's share was $750,000; Mudeen's share was $1,000,000; Sasedai Persaud's share was $1,000,000; and the purported executrix's share was in excess of $642,000.
The matter is under investigation by the Financial Crimes Unit of the Cayman Islands police and, according to a statement by a police spokesperson last year, a "54-year-old woman was arrested in connection with this investigation in March 2012. She was arrested on suspicion of conspiracy to steal monies and has been released on police bail while enquiries continue."
However, for a number of months the matter appears to have been mired in inaction by the Cayman Islands Legal Department, which has reportedly been sitting on pertinent information provided by the Bahamas police without pursuing the case.
To compound this litany of fraud and incompetence, the Cayman court appears to have failed to exercise the due diligence required by local law in granting probate of the purported will to an individual with no established connection to Yusuf Mongroo or his family and no professional standing or prior expertise in administering a multi-million dollar estate that was in fact bequeathed to a non-existent beneficiary.
The court even ignored its own rules in failing to require an affidavit of foreign law from a legal practitioner in Guyana as to the due execution of the purported will, instead accepting an affidavit from a former Registrar of Deeds in Guyana, who had previously been terminated from that position and in any event had no legal qualification in the first place.
It has also since been discovered that the two individuals in Guyana that were said to have witnessed Mr Mongroo's Cayman will cannot be located and are now thought never to have existed in the first place.
It is not known if the "high court judge" reportedly referred to by Mudeen is the same judge that approved the grant of probate of what now turns out to be a demonstrably invalid and probably fraudulent will, or whether this was merely a pretext used by Mudeen to take an extra $1 million for himself.
According to Mongroo's daughter, Sherene, the state of her father's health and his physical condition, as determined by a post mortem examination, would have made it impossible for him to have comprehended what he was doing at the time the Cayman will was purportedly signed by him just days before his death.
Neither First Caribbean International Bank nor its parent, Canadian Imperial Bank of Commerce (CIBC), responded to a request to comment on this story.
In addition, following a request to the Judicial Administration in the Cayman Islands for an explanation as to why the Director of Public Prosecutions has so far taken no action in the matter and also for comment regarding the claim made by one of the alleged perpetrators of the theft that he "had to pay a high court judge one million US dollars", Kevin McCormac, the court administrator, replied that our inquiry "has been passed to the Director of Public Prosecutions for a response."
Enquiries are in the meantime continuing in Barbados.
By: Caribbean News Now