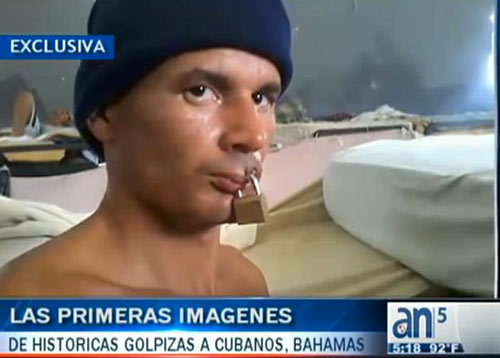 América Tevé recently televised videos and photographs purportedly showing abuse of Cuban detainees being brutally beaten by Bahamian officials. The video shows four detainees on the floor, an immigration official kicking them.
The video also shows the detainees with severe bruises. Other photos show some of the Cuban detainees who sewed their lips together with wires – and in one case, with a lock – in protest of detention center conditions. A final gruesome photo reveals the welt on the detainee's back, appearing to be caused by a baton.
After the release of the video, Cuban-Americans, and the entire South Florida community, are finally taking a hard look at the treatment of Cubans by officials in the Bahamas. The Democracy Movement, Members of the U.S. House of Representatives and the Cuban-American community have all reacted with calls for an investigation into the possible human rights violations in the video.
These problems are not new. There have been a plethora of complaints by Cuban detainees about abuse and deteriorating conditions at the Carmichael Road Detention Centre. Now there appears to evidence.
Bahamian officials have denied the accuracy of these complaints. Fred Mitchell, the Bahamian Minister of Foreign Affairs and Immigration, declared the video a hoax and attacked its credibility. He questioned that the video does not show the faces of the guards. He was suspicious of the guard's accent. And he doesn't like the video's setting.
The Bahamian government must first come to terms with the many complaints about conditions for detainees. If the government is so concerned with protecting its borders, it can start by adequately training law enforcement officials to learn the value of human dignity.  The Bahamian government should then launch an investigation into the allegations of detainee abuse.