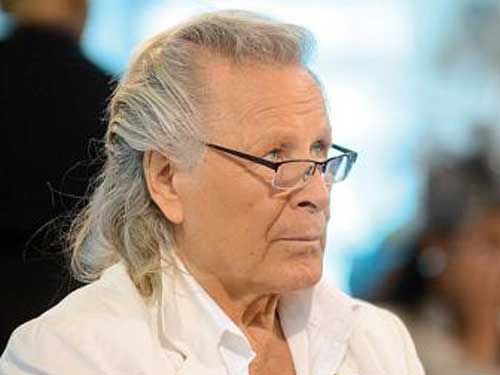 Canadian fashion designer Peter Nygard said he has no self-serving interests in the government passing a law to govern stem cell research and therapy in The Bahamas.
Nygard said any advice Prime Minister Perry Christie has sought from him on stem cell research is due to his knowledge of the science and well-placed contacts within the international medical community.
Nygard, who said he uses stem cell therapy to slow the aging process, told reporters that the prime minister should be congratulated for advancing such "historic" legislation.
The Lyford Cay resident said he has given advice to numerous world leaders and helped set up laws in St. Kitts, the Turks and Caicos Islands and Panama.
Nygard said Christie approached him two years ago and asked his advice on possible opportunities for medical tourism in the country.
He said he told Christie that a stem cell research and therapy industry would make The Bahamas a world leader in the science.
"I said this will be a big coup for you if you could do it," Nygard told reporters at his compound shortly after announcing his financial support of the upcoming Acklins regatta.
"I don't know why anybody would paint that as doing it for me. I think he is doing for [Bahamian] people, for The Bahamas. If I can help and I will then that's a whole different issue. There is nothing in it for me. This is not a money venture for me at all.
"There's no promise to me. The promise that I made to him (Christie) is that I will do everything that I can to spur and bring like-minded people like myself to invest in this place to be the leading edge, to be the catalyst [to bring investments] here."
On Friday, Christie confirmed that Nygard promised to bring experts in stem cell therapy and research to The Bahamas if the government passes legislation to govern
the sector.
Christie said that Nygard approached him two years ago, while he was then leader of the opposition, and told him of his problems trying to find reputable stem cell treatment for his sick mother.
That ordeal prompted Nygard to pledge to bring top doctors and researchers in stem cell therapy to the country once there were laws in place, the prime minister said.
Two weeks ago, during the House of Assembly's debate on a stem cell bill, Opposition Leader Dr. Hubert Minnis accused the government of "rushing" the law to appease Nygard.
However, this claim angered several government MPs who denied it. Minnis said on Sunday the prime minister's comments validated his concerns on the stem cell legislation. "I was very shocked," he told The Nassau Guardian. "What he (Christie) said is open for interpretation." Debate on the legislation is expected to resume when the House meets on Wednesday.
By Taneka Thompson
Guardian Senior Reporter