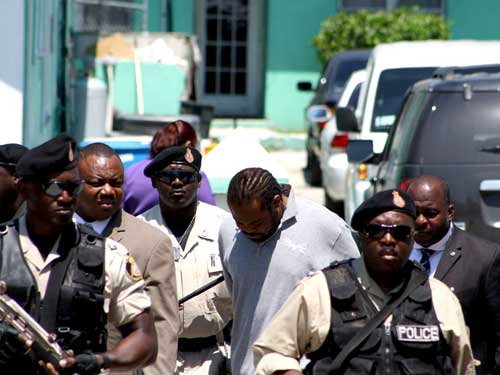 After three hours of deliberating, a 12-woman jury tonight found Stephen 'Die' Stubbs, Andrew Davis and Clint Evans guilty of murdering Constable Jimmy Ambrose and attempting to kill Constable Marcian Scott.
A Supreme Court jury returned their unanimous verdicts on all counts just after 7.30pm. The 14-year-old trial had lasted a little over seven weeks.
Stubbs, Davis and Evans were each found guilty of murder and attempted murder in connection with the March 1999 death of Officer Ambrose.
Evans was separately charged with two counts of possession of a firearm with intent to put another in fear. He was found guilty on both counts.
Stubbs was represented by Murrio Ducille and Jerone Roberts while Davis and Evans were represented by Ian Cargill and Romona Farquharson-Seymour respectively.
More than 40 police officers from various divisions, including the K-9 unit, were stationed around the Supreme Court as the jury deliberated.
As the guilty verdicts were called off, family members in the court room began to cry out and some persons walked out of the court room.
Outside, loved ones shouted support for the murderers, and hurled threats at the police from the sidelines as Stubbs, Davis and Evans were escorted away.
One woman shouted: "The police want to celebrate but they can't celebrate now. God got the last say, God got to kill some of them on the police force, too much wickedness, wickedness in high places."
Stubbs' attorney, Murio Ducille, expressed disappointment with the verdict and said he planned to file for appeal immediately after the sentencing.
As Clint Evans was escorted out of the Supreme Court building, he looked in the direction of press photographers and said "point that camera at ya ma'".
The court had heard that the three accused, on the day in question, murdered Constable Ambrose and attempted to kill Constable Marcian Scott after a fight in a local night club.
Evans possessed a firearm with intent to put Constables Frank Burrows and Calvin Robinson in fear of their lives.
All three men had denied the charges and pleaded not guilty when they were initially read to them.
Before the jury began their deliberation, Justice Roy Jones reminded them that the accused men were innocent until being proved guilty and not to hold their pasts, whether true or untrue, against them.
He also warned the jurors not to be influenced by stories they may have heard or read about the men, particularly Stephen Stubbs.
Justice Jones told them to only use evidence presented in the courtroom to determine their guilt or innocence.
He also told them to consider each count, against each man, separately.
Justice Jones told the jury that in order for the men to be found guilty of murder, the verdict would have to unanimous.
He also told them the men could also be found not guilty as charged as a result of mistaken identity.
On the other charges, attempted murder and possession of a firearm, Justice Jones said he would accept a majority verdict. However the jury returned unanimous guilty verdicts on all counts.
The men were remanded to Her Majesty's Prison until September 18 when they will be sentenced.
By: The Tribune