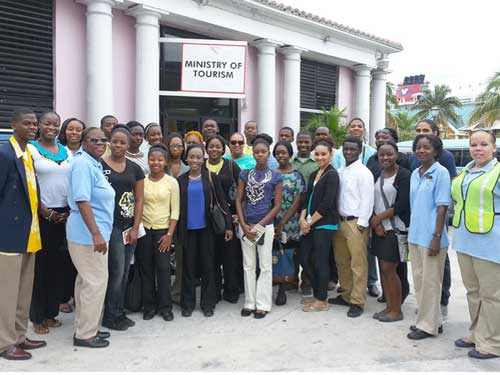 Participants of the Ministry of Tourism's Summer Employment Program got tips on handling customer queries recently from the Ministry's downtown Tourism Ambassadors.
The Tourism Ambassadors in the downtown area and at the Festival Place Cruise Welcome Center are available for answering various questions from visitors.
As they walk the streets of downtown Nassau, identified by brightly colored florescent  vests, tourism ambassadors answer questions ranging from requests for directions, information about tours, attractions and our public transportation system.
As a part of the activities planned to expose the summer employees to the various aspects of the business of tourism, 24 summer employees observed the Tourism Ambassadors at work and were acquainted with the history of downtown Nassau and its landmarks.
"It was really informative. We got to learn a lot," said Elmer Lowe, a student at St. Mary's University. "I got some information I did not have before and saw areas that I had not seen before such as Festival Place. It gave us hands on experience in frontline tourism."
The summer employment program ends July 26.
By: The Ministry of Tourism