The independent authority on retirement, bestretirementdestinations.com, has released their list of the ten best retirement communities in the Bahamas for the month of July 2013.
The independent research team at bestretirementdestinations.com performs an in-depth analysis of retirement communities found all around the world to assist retired professionals in selecting the best destination to meet their needs.
The rankings are released at the start of each month in order to account for the latest developments and improvements of various locations.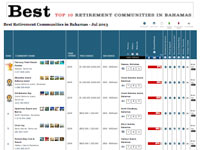 The Ten Best Retirement Destinations in the Bahamas for July 2013 are:
1) February Point Resort Estates
2) Shoreline Grand Bahama Island
3) Old Bahama Bay
4) Valentines Resort and Marina
5) Chub Cay
6) Romora Bay Club & Resort
7) Blue Marlin Cove Anglers Club
8) Ocean Club Residences and Marina
9) Fortune Cay
10) Discovery Bay
Each of the retirement communities included in the rankings have been put through a meticulous evaluation process which aims to determine which facilities produce the best experience for residents.
The process for evaluating retirement communities involves the use of a set of evaluation criteria and connecting with residents of each destination for a more in-depth analysis. The five areas of evaluation used for comparing and benchmarking various retirement communities in the Bahamas include residential options, visual appeal, recreational activities, social networking, and safety.
ABOUT bestretirementdestinations.com
Being the first of its kind, bestretirementdestinations.com gained instant popularity on the internet. It was only a matter of months, since its inception in 2008, that people recognized the site as being a singular source for credible information on retirement destinations.
To view the rankings of the best retirement communities in the Bahamas visit: