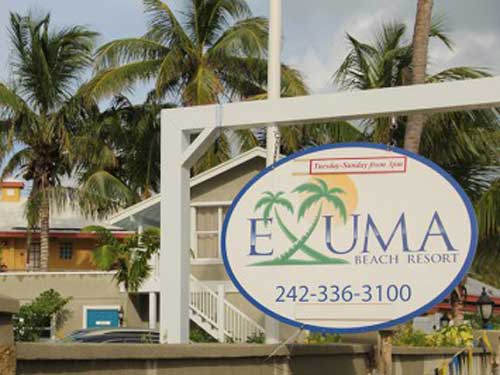 Great Exuma's resort offerings continue to expand with the addition of properties in George Town and at the border of Little Exuma.
At the beginning of the year, the Exuma Beach Resort opened in George Town and Turquoise Cay at the site of the former Peace and Plenty Bonefish Lodge will soon welcome guests in a soft opening. Business has been good throughout the year, said Sara Swanson, general manager of Exuma Beach Resort.
"So far, with the hotel, we have had a great domestic following," Ms. Swanson said. "A lot of people come in town to do business in Exuma and stay with us.
We have also been greatly supported by the FBO here, Odyssey in Exuma. So we have had a lot of interesting international clientele as well."
As a member of the Bahama Out Islands Promotion Board, Exuma Beach benefits from the cooperative promotions hat the Board directs. In particular, the resort has gained a lot of business from BOIPB's Two Fly Free program.
"We have really been focusing on social media," Ms. Swanson said. "We are working on our web presence. We have a really great following on Facebook, believe it or not. We have a lot of wonderful events at the restaurant and bar throughout the summer. We are not slowing down. People say it is the summer season and we are full speed ahead."
Meanwhile, Turquoise Cay continues preparations for the opening of its boutique hotel. The hotel staff is eager to begin their operation, said developer Gabriela Chiriboga.
"We just want o provide the guests with the best service we can offer," she said. "We have eight rooms, two restaurants and three bars, each restaurant offering a different menu.
"Our target market is mainly people from the US and South America that like to be treated in a personal way. We don't say no to our guests. Everything is possible here."
The developers plan a soft opening this summer and to be fully open shortly after summer.
Source: Ministry of Tourism