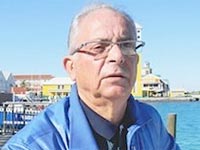 Downtown Nassau needs "at least 20 more restaurants" to transform itself into a nighttime destination that will once again attract both locals and tourists, a senior private sector executive said.
Charles Klonaris, the Downtown Nassau Partnership's (DNP) co-chairman, told Tribune Business that Bay Street and the surrounding area lacked the "proper choice" of dining options that would entice families back to the city in the evening.
Noting that downtown Nassau was "locked into a triangle" between Paradise Island, Cable Beach and the cruise ships, Mr Klonaris said: "We have to combine all these top-notch destinations bringing thousands of tourists.
"It's how we market ourselves as well as create a product. The city has to be somewhere people want to come to be entertained. It has to be clean, safe and enjoyable.
"The city right now, for it to be a nightly destination, we need at least 20 more restaurants downtown to bring variety.
"Right now, we have upscale and fast food, but are not giving proper choice for families to come down, night or day, and enjoy themselves and make use of the magnificent harbour we have."
Downtown Nassau's restaurant options are set to receive a major boost with the investment in four new eatery concepts by an investor group headed by Jamie Dingman, son of Bahamas-based businessman and philanthropist, Michael Dingman.